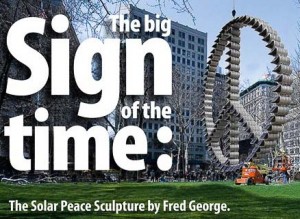 PRAY  for the Truly Interreligious Brotherhood Congress being held by Pastoral Work Council of the Archdiocese of Semarang at Muntilan, October 24-26, 2014
My daily reflection and prayer: Friday, October 24, 2014
Dear my friends,
Here is the Gospel for us today, according to St. Luke 12:54-59.
Jesus said to the crowds, "When you see a cloud rising in the west you say immediately that it is going to rain–and so it does; and when you notice that the wind is blowing from the south you say that it is going to be hot–and so it is. You hypocrites! You know how to interpret the appearance of the earth and the sky; why do you not know how to interpret the present time?
"Why do you not judge for yourselves what is right? If you are to go with your opponent before a magistrate, make an effort to settle the matter on the way; otherwise your opponent will turn you over to the judge, and the judge hand you over to the constable, and the constable throw you into prison. I say to you, you will not be released until you have paid the last penny."
***
Jesus teaches us to wisely read and then accurately to interpret the signs of the times! For this purpose, we must learn from the farmers and seafarers who know the importance of spotting weather conditions for safe travel and planting.
In our lives today, we can do it with the help of science and technology. We can easily discern potential natural dangers, such as tropical storms, floods, tornados, earth quakes, and erupting volcanoes, so that we are able to be warned to take shelter before disaster hits.
Learning from the natural signs, we can also do our spiritual discerning. We must accurately have discerning spiritual danger. It is even more necessary that we are able to avoid a spiritual crisis or a moral disaster in our lives.
This is the lesson we can draw from the Gospel today, that is wisely interpreting the signs of the times in our lives based on our faith to the Lord. We realize that none of us has the power and strength of will for overcoming sin and evil on our own. So, we must stand in constant need of God's grace, help, strength, and protection.
In Perpetual Adoration of the Eucharist, we continually make spiritual discerning that we can wisely interpreting the signs of the times in our lives. While worshipping Jesus Christ the Lord, we realize that we are so vulnerable and weak that we stand in God as our rock, refuge, fortress, and mighty defense.
Let's pray: Lord Jesus Christ, we need Your help and discernment for distinguishing between truth and error, right and wrong, good and evil in our daily lives. You are the only just Judge and merciful Advocate who pleads for us at the right hand of the Father in heaven. Frees us from the tyranny of sinful habits, hurtful desires, and harmful addictions. Give us the grace and help we need to choose for Your way of love and holiness, now and forever. Amen.
Wisma St. Fransiskus, Muntilan
»̶•̵̭̌•̵̭̌✽̤̈̊•Ɓέяќǎђ•Đǎlєm•✽̤̥̈̊•̵̭̌•̵̭̌«̶
"abdi Dalem palawija"
Majalah INSPIRASI, Lentera yang Membebaskan
Komisi Hubungan Antaragama dan Kepercayaan Keuskupan Agung Semarang
Photo credit: Ilustrated (Courtesy of Fred George)