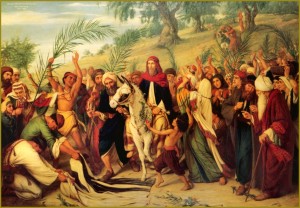 MY daily reflection and prayer:
Palm Sunday, March 28, 2015
Dear my friends,
Here is the Gospel for us today according to Mark 11:1-10  [Read also Passion Narrative according to St. Mark 14:1–15:47]
And when they drew near to Jerusalem, to Bethphage and Bethany, at the Mount of Olives, he sent two of his disciples, and said to them, "Go into the village opposite you, and immediately as you enter it you will find a colt tied, on which no one has ever sat;  untie it and bring it. If any one says to you, `Why are you doing this?' say, `The Lord has need of it and will send it back here immediately.'" And they went away, and found a colt tied at the door out in the open street; and they untied it. And those who stood there said to them, "What are you doing, untying the colt?"
And they told them what Jesus had said; and they let them go. And they brought the colt to Jesus, and threw their garments on it; and he sat upon it. And many spread their garments on the road, and others spread leafy branches which they had cut from the fields. And those who went before and those who followed cried out, "Hosanna! Blessed is he who comes in the name of the Lord! Blessed is the kingdom of our father David that is coming! Hosanna in the highest!"
This is the Gospel of the Lord. Praise to you Lord Jesus Christ.
In this Palm Sunday, we are all invited to welcome the King of glory, Jesus Christ, who entries in our lives and hearts. As the people of Jerusalem were ready to hail him as their Messianic King, and so do we!
But Jesus went to Jerusalem knowing full well what awaited him. He would be betrayed, rejected, and crucified especially by the religious leaders of the Jews. Little did the people know what it would cost this king to usher in his kingdom.
Jesus' entry into Jerusalem astride a colt was a direct fulfillment of the Messianic prophecy of Zechariah (9:9). Why did Jesus astride a colt? The colt was a sign of peace.
What does it mean for us today? Jesus enters Jerusalem in meekness and humility, as the Messianic King who offers victory and peace to all of us, his people. But, that peace would be secured in the cross and resurrection which would soon take place at the time of Easter.
According to St. Augustine of Hippo, Jesus Christ is the master of humility who humbled himself and became obedient even to death, even the death of the cross. However, he does not lose his divinity when he teaches us humility. He is the king of the ages and the king of humanity.
He leads us into the kingdom of heaven which is available for those who believe, hope, and love him. It is for one who is the Son of God, equal to the Father, the Word through whom all things were made, to become king of the universe.
In Perpetual Adoration of the Eucharist we worship faithfully Jesus Christ who has come to bring us the kingdom of God. The Perpetual Adoration of the Eucharist Chapel is our wall that echoes with the praise of his glory. There we find him the true King who offers peace, joy, and everlasting life for us who accept his kingship. Does he, the King of glory find a welcome entry in our hearts?
Let's pray: Lord Jesus Christ, come into our hearts and lives with your peace. Please, be the King and Ruler of our hearts, minds, lives, and homes. May our lives reflect your meekness and humility that you may be honored as the King of glory now and forever. Amen.
Phot credit: Ist