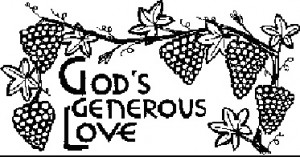 MY daily reflection and prayer:
Monday, November 3, 2014
Dear my friends,
Here is the Gospel for us today, according to St. Luke 14:12-14.
On a Sabbath Jesus went to dine at the home of one of the leading Pharisees. He said to the host who invited him, "When you hold a lunch or a dinner, do not invite your friends or your brothers or sisters or your relatives or your wealthy neighbors, in case they may invite you back and you have repayment. Rather, when you hold a banquet, invite the poor, the crippled, the lame, the blind; blessed indeed will you be because of their inability to repay you. For you will be repaid at the resurrection of the righteous."
This is the Gospel of the Lord. Praise to You Lord Jesus Christ.
***
There is a proverb in Latin language, "Do ut des". I give for being given. I give for receiving in return. Jesus Christ reminds us today, give and never think that you will be given back as reward. Give, but never expect some favor or reward from others.
Jesus Christ reminds us about generosity. Do not only show favor and generosity to those who will repay us in kind. We understand that generosity demands a measure of self-sacrifice. It enriches the soul of the giver.
As Jesus has done for, true generosity springs from His heart full of mercy and compassion. We love Him because He loves us first. Our love is merely a response of gratitude to His great mercy and kindness towards us.
In Perpetual Adoration of the Eucharist, we worship Jesus who loves us first. Although we adore Him, but we cannot out give Him in His generosity towards us. So, let's give freely our time to worship Him in Perpetual Adoration without expectation for personal gain or reward.
Let's pray: Thanks to You, the Lord Jesus Christ for You are always ready to receive us at Your table of the Eucharist. Purify our love for others that we may seek their good rather than our own benefit or gain. Free us to love others as You love us, now and forever. Amen.
Girli Kebon Dalem
»̶•̵̭̌•̵̭̌✽̤̈̊•Ɓέяќǎђ•Đǎlєm•✽̤̥̈̊•̵̭̌•̵̭̌«̶