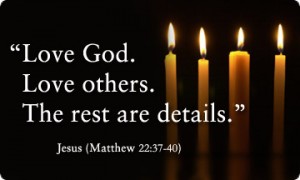 MY daily reflection and prayer: Sunday, May 10, 2015
The Sixth Week of Easter
Dear my friends,
Here is the Gospel for us today according to John 15:9-17
Jesus says, "As the Father has loved me, so have I loved you; abide in my love. If you keep my commandments, you will abide in my love, just as I have kept my Father's commandments and abide in his love. These things I have spoken to you, that my joy may be in you, and that your joy may be full.
"This is my commandment, that you love one another as I have loved you. Greater love has no man than this that a man lay down his life for his friends. You are my friends if you do what I command you. No longer do I call you servants, for the servant does not know what his master is doing; but I have called you friends, for all that I have heard from my Father I have made known to you. You did not choose me, but I chose you and appointed you that you should go and bear fruit and that your fruit should abide; so that whatever you ask the Father in my name, he may give it to you. This I command you, to love one another."
This is the Gospel of the Lord. Praise to you Lord Jesus Christ.
***
What is the greatest act of love and friendship we can give for the sake of another? Jesus Christ defines that love and friendship must be expressed in sacrifice. So he says, "Greater love has no man than this that a man lay down his life for his friends."
Love is the mutual bond of trust and affection we choose to have for others and so friendship. It is the willingness to give totally of ourselves, even to the point of laying down our lives for others.
Why do we love others as such? Yes because God is love as the Scripture tells us that God is love (1 John 4:8). He loves us totally in and through Jesus Christ who has laid down his life for the sake of our salvation. Everything he does flows from his immense love for us. He loves us so much – far beyond what we could ever expect. Even he was willing to pay any price to redeem us from our slavery to sin and death.
Jesus Christ says that there is no greater proof in love than the sacrifice of one's life for the sake of another. He proved his love by giving his life for us on the cross. Through the shedding of his blood for our sake, he washes our sins clean. He also pours out new life for us.
In Perpetual Adoration of the Eucharist we lovingly worship the Lord Jesus Christ who tells us that he is our friend and he loves us whole-heartedly and unconditionally. We learn to open our hearts to his love and obey his command to love our neighbor. May we bear much fruit in our lives, fruit that will last for eternity. Let's wish to be fruitful and to abound in the love of God.
Let's pray: Lord Jesus Christ teaches us to serve you as you deserve. May we give and not to count the cost, we serve and not to ask for any reward. May we love and serve others faithfully now and forever. Amen