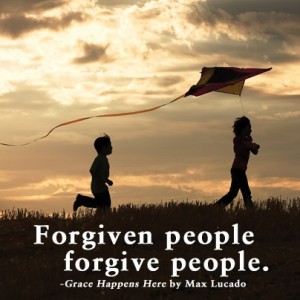 MY daily reflection and prayer:
Tuesday, March 10, 2015
The Third Week of Lent
Dear my friends,
Here is the Gospel for us today according to St.  Matthew 18:21-35 
Then Peter came up and said to him, "Lord, how often shall my brother sin against me, and I forgive him? As many as seven times?" Jesus said to him, "I do not say to you seven times, but seventy times seven. "
Therefore the kingdom of heaven may be compared to a king who wished to settle accounts with his servants. When he began the reckoning, one was brought to him who owed him ten thousand talents; and as he could not pay, his lord ordered him to be sold, with his wife and children and all that he had, and payment to be made.
So the servant fell on his knees, imploring him, `Lord, have patience with me, and I will pay you everything.' And out of pity for him the lord of that servant released him and forgave him the debt.
But that same servant, as he went out, came upon one of his fellow servants who owed him a hundred denarii; and seizing him by the throat he said, `Pay what you owe.' So his fellow servant fell down and besought him, `Have patience with me, and I will pay you.'
He refused and went and put him in prison till he should pay the debt. When his fellow servants saw what had taken place, they were greatly distressed, and they went and reported to their lord all that had taken  place.
Then his lord summoned him and said to him, `You wicked servant! I forgave you all that debt because you besought me; and should not you have had mercy on your fellow servant, as I had mercy on you?' And in anger his lord delivered him to the jailers, till he should pay all his debt. So also my heavenly Father will do to every one of you, if you do not forgive your brother from your heart."
This is the Gospel of the Lord. Praise to you Lord Jesus Christ.
***
No one of us doesn't have debts we need to pay off! How would be grateful for us to have someone release us from our debts? Yes, thanks be to God for we have Jesus Christ who always release us from our debts, our sins.
Jesus Christ always grants us mercy and peace. In him and through him, God always has mercy not only on us, but also upon all others we pray for. So we can also pray like Daniel as proclaimed in the first reading, "Do not put us to shame, but deal with us in your forbearance and in your abundant mercy" (Daniel 3:19-43).
In the Gospel, Jesus teaches us to forgive other not only seven times as Peter thinks of, but seventy times seven. Jesus wants us to be merciful as God, our heavenly Father. Our Father's mercy towards each one of us shows us the way that he wants each one of us to be merciful towards one another.
For Jesus, it's clear that there is no reckonable limit to mercy and pardon. That is the main and important lesson of Jesus' parable proclaimed to us today. Jesus also wants to teach us that only his mercy and pardon could free us from our sins. Furthermore, if God – through Jesus Christ – has forgiven each of us our own sins, which are very great, we, too must forgive others from our hearts.
In Perpetual Adoration of the Eucharist, while worshipping Jesus Christ, we trust our lives to God whose mercies never come to an end. Even his mercies are new every morning. Through Jesus Christ and in him, God gives us grace. He shows his mercy to those who turn to him for healing and pardon. Through Jesus' atoning sacrifice for our sins on the cross, we have been forgiven from our sins. Jesus Christ has paid the price for us and won for us pardon for our sins. So we must forgive others.
Let's pray: Lord Jesus Christ, in your mercy you offer us the grace. Help us to love you love, pardon as you pardon. May we treat others with the same mercy and kindness which you have shown to us. Make your peace with us that we may be the sign of peace for others forever and ever. Amen.