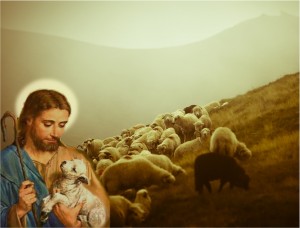 MY daily reflection and prayer:Tuesday, April 28, 2015
The Fourth Week of Easter
Dear my friends, here is the Gospel for us today according to John 10:22-30
It was the feast of the Dedication at Jerusalem; it was winter, and Jesus was walking in the temple, in the portico of Solomon. So the Jews gathered round him and said to him, "How long will you keep us in suspense? If you are the Christ, tell us plainly." Jesus answered them, "I told you, and you do not believe. The works that I do in my Father's name, they bear witness to me; but you do not believe, because you do not belong to my sheep. My sheep hear my voice, and I know them, and they follow me; and I give them eternal life, and they shall never perish, and no one shall snatch them out of my hand. My Father, who has given them to me, is greater than all, and no one is able to snatch them out of the Father's hand. I and the Father are one."
This is the Gospel of The Lord. Praise to you Lord Jesus Christ.
***
Jesus Christ is our Good Shepherd and we are his sheep. The question now is how are we to be his good shepherd? According to the Gospel today, we may be his good shepherd by hearing his voice. So Jesus saus, "My sheep hear my voice, and I know them, and they follow me; and I give them eternal life, and they shall never perish, and no one shall snatch them out of my hand."
When we hear his voice and follow him we will be secure in our faith and trust in God. We have to hear him for his voice is a "lamp for our feet and a light for our steps"(Psalm 119:105). In his light of his voice we can see who God truly is. Following Jesus Christ we can find the true path to heaven.
Jesus Christ is our good shepherd (John 10:11). He guards us from the dangers of storms, floods, and beasts of prey. He leads us to the best places for feeding and the best streams for drinking. He gives us the best place for our rest and safety at night. So we must recognize his voice and heed his call.
In Perpetual Adoration of the Eucharist, we are worshipping Jesus Christ who comes personally to lead us to the best place where we can feed on his "word of life" and drink from the "living waters" of his Holy Spirit. There we also heed the voice of Jesus Christ, the Good Shepherd. He will lead us to the best of places: everlasting peace, joy, and fellowship with God and his people.
Let's pray: Lord Jesus Christ, you are our Good Shepherd who secures what is best for us. We place all my hope and trust in you. Open our ears to hear your voice today and to follow your commands faithfully now and forever. Amen.
Kredit foto: Ilustrasi (Ist)