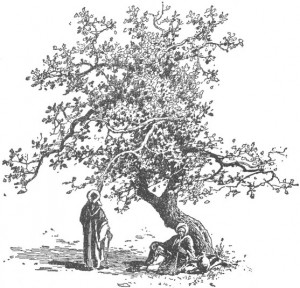 MY daily reflection and prayer: Saturday, 25 October 2014
Dear my friends,
Here is the Gospel for us today, according to St. Luke 13:1-9.
Some people told Jesus about the Galileans whose blood Pilate had mingled with the blood of their sacrifices. He said to them in reply, "Do you think that because these Galileans suffered in this way they were greater sinners than all other Galileans? By no means! But I tell you, if you do not repent, you will all perish as they did! Or those eighteen people who were killed when the tower at Siloam fell on them – do you think they were more guilty than everyone else who lived in Jerusalem? By no means! But I tell you, if you do not repent, you will all perish as they did!"
And he told them this parable:
"There once was a person who had a fig tree planted in his orchard, and when he came in search of fruit on it but found none, he said to the gardener,
'For three years now I have come in search of fruit on this fig tree but have found none. So cut it down. Why should it exhaust the soil?' He said to him in reply, 'Sir, leave it for this year also, and I shall cultivate the ground around it and fertilize it; it may bear fruit in the future. If not you can cut it down.'"
This is the Gospel of the Lord. Praise to You Lord Jesus Christ.
***
Jesus tells two such occasions to address the issue of sin and judgment with his Jewish audience. As the Jews, we often associate such calamities and disasters as a consequence of sin.
So Jesus warns us that the time for repentance and forgiveness is right now! Jesus gives a clear warning. We must take responsibility for our actions and moral choices and put sin to death today before it can destroy our heart, mind, soul, and body as well.
Like a cancer, unrepentant sin corrupts us from within. We must ask God for forgiveness and for His healing grace for it leads to a spiritual death which is far worse than physical destruction.
In Perpetual Adoration of the Eucharist, we ask Jesus Christ to purify and cleanse us from all sin. We try to grow in His holiness and righteousness. There we experience His patience and mercy.
Let's pray: Lord Jesus Christ, in Your mercy give us both grace and time to turn away from our sin, right now. Increase our hunger for You that we may grow in righteousness and holiness, now and forever. Amen.
Wisma Fransiskus Muntilan
»̶•̵̭̌•̵̭̌✽̤̈̊•Ɓέяќǎђ•Đǎlєm•✽̤̥̈̊•̵̭̌•̵̭̌«̶
Photo credit: Ilustrated (Catholic Jules)