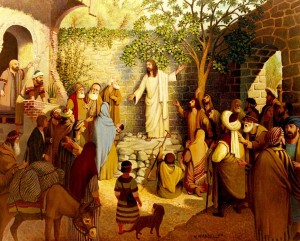 MY daily reflection and prayer:
Tuesday, July 21, 2015
Sixteenth Week in Ordinary Time
Dear my friends,
Here is the Gospel for us today according to Matthew 12:46-50
While he was still speaking to the people, behold, his mother and his brothers stood outside, asking to speak to him. But he replied to the man who told him, "Who is my mother, and who are my brothers?" And stretching out his hand toward his disciples, he said, "Here are my mother and my brothers! For whoever does the will of my Father in heaven is my brother, and sister, and mother."
***
SURELY, Jesus' love and respect for his mother and his relatives is unquestionable. But in the Gospel today Jesus Christ points to another higher reality of relationships, namely our relationship with God and with those who belong to God. He offers to all of us the greatest of relationship.
What kind of relationship Jesus offers us? He offers relationship which is rooted in his love. It is first and foremost a relationship of trust, affection, commitment, loyalty, faithfulness, kindness, thoughtfulness, compassion, mercy, helpfulness, encouragement, support, strength, protection, and so many other qualities that bind us together in mutual love and unity. It based on the union of heart, mind, and spirit with himself, the very source of love.
Jesus' love never fails, never forgets, never compromises, never lies, never lets us down nor disappoints us. It is consistent, unconditional and unstopable.
In the Perpetual Adoration of the Eucharist we worship Jesus Christ who offers us a true loving relationship by laying down his life on the cross for our salvation. He has redeemed us in his blood. Those who have been redeemed by the blood of Christ are adopted as sons and daughters of God, the Father.
Let's pray: Lord Jesus Christ, thank you for the Sacrament of Baptist through which we enter into a new family, a family of saints here on earth and in heaven. You show the true relationship that is not just a matter of flesh and blood. May we grow in love and friendship to you and others. Help us to love our neighbor with charity, kindness, compassion, and mercy, just as you have loved us now and forever. Amen.
Kredit foto: Ilustrasi (Ist)