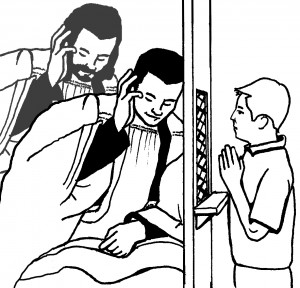 My daily reflection and prayer: Wednesday, August 13, 2014
"Truly, I say to you, whatever you bind on earth shall be bound in heaven, and whatever you loose on earth shall be loosed in heaven." (Matthew 18:18)
THE  Gospel proclaimed to us today makes me to understand more on the Catholic Church teaching about the Sacrament of Confession. We know, in the Catholic Church, we have an abundant heritage on spiritual and sacramental grace.
We have seven Sacraments that are Baptism, Conformation, Holy Communion (Eucharist), Confession, Anointing of the Sick, Marriage and Holy Orders (Priesthood). Let's notice on the Sacrament of Confession. We call it the Sacrament of Penance as well.
The core of this Sacrament is that God reconcile us with Himself. It is a great source of grace. It's better we take advantage of it often.
Yes, Jesus Himself gives an authority to the disciples when He said, "Receive the Holy Spirit, for those whose sins you forgive, they are forgiven, for those whose sins you retain, they are retained" (John 20:23). This is one of the biblical reason for the Sacrament of Penance.
The other text is Matthew 18:18. The text becomes true in the rite of Sacrament of Penance, especially in the end of it. As a sign that God forgives our sins, the priest would pray, "In the authority of the Church, I forgive you in the name of the Father, and of the Son and of the Holy Spirit". By saying it as a prayer, priests in the Catholic Church has forgiven the penitent. He loose on earth the sins of the penitent and so the penitent shall be loosed in heaven as well.
Thanks to the Lord that we have this Sacrament of Penance. Even, we can take the advantage of it often. Praise to the Lord Jesus Christ!
What is the relationship between this Sacrament and the Perpetual Adoration of the Eucharist? First, by doing Perpetual Adoration of the Eucharist we ask to the Lord that there are so many people would be contrite then confess their sins. Second, Perpetual Adoration of the Eucharist can also be an expression of our penance and making amends for our sins.
Let's pray: Lord Jesus Christ, after reading Your words today, I beg to You three things. First, make me an instrument of your healing love and peace for others. Second, please, give me wisdom and courage to bring your healing love and saving truth to those in need of healing and restoration. Third, may Your people take the advantage of the Sacrament of Confession that so many people would be saved, now and forever. Amen.
SALAM TIGA JARI: Persatuan Indonesia dalam Keragaman
Photo credit: the sacrament of penance (Courtesy of Veneremur Cernui)