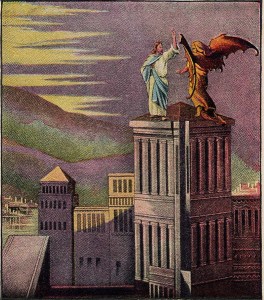 MY daily reflection and prayer: Sunday, February 22, 2015
Dear my friends, here is the Gospel for us today according to St. Mark 1:12-15
The Spirit immediately drove him out into the wilderness. And he was in the wilderness forty days, tempted by Satan; and he was with the wild beasts; and the angels ministered to him. Now after John was arrested, Jesus came into Galilee, preaching the gospel of God, and saying, "The time is fulfilled, and the kingdom of God is at hand; repent, and believe in the gospel."
This is the Gospel of the Lord. Praise you you Lord Jesus Christ.
***
In Gospel today St. Mark states that the Spirit immediately drove Jesus out into the wilderness (Mark 1:12). Why was Jesus compelled to seek solitude for such a lengthy period? I imagine, as the pilots to be tested to see that they are fit to fly so God tests Jesus, his humble servant, to see if he is fit to have his mission. And Jesus is doing it successfully.
In the wilderness Jesus experienced his fit and proper test before God to accomplish his mission. He journeyed to the wilderness of Judea for 40 days to prepare himself for the mission which the Father sent him to accomplish by offering up his life as the perfect atoning sacrifice for our sins.
From the Gospel today we learn, despite his weakened condition, due to fatigue and lack of food for 40 days, Jesus steadfastly rejected Satan's subtle and not so subtle temptations. He found his strength to survive the desert's harsh conditions and the tempter's seduction in his Father's word and in doing his will.
What is the significance of Jesus spending 40 days and nights of solitude, prayer and fasting in the Judean wilderness for us? First of all, forty days of Jesus in the wilderness is like a having time to retreat for us. It is very important time to seek the face of God who saves us in Christ.
Secondly, we can compare Jesus' experience to what happened in the Old Testament. We remember, in the Old Testament 40 days is often seen as a significant period of testing and preparation for entering into a covenant relationship with God.
Let's see three examples of it. Noah and his family were spared because they obeyed God and took refuge in the ark for 40 days. When the flood subsided God made a covenant with Noah and promised that he would not destroy the human race again. Jesus has come to fulfill that promise. We also read in the book of Exodus, Moses went to the mountain of the Lord at Sinai and remained there in prayer and fasting for 40 days (Exodus 24:18). There God made a covenant with Moses and the people. We also know the prophet Elijah who fled into the wilderness and journeyed for 40 days to the mountain of God at Sinai (1 Kings 19:8). There God spoke with Elijah and commissioned him to pass on the work of restoring the worship of the one true God in the land.
In Perpetual Adoration of the Eucharist we learn to find his strength by repenting and believing in him. Repent means to turn away from sin and wrong-doing in order to follow God's way of love, truth, and moral goodness. It is the first step to surrendering our wills and lives to God. By adoring him, we submit to his rule in our lives and believe in the Gospel message then he gives us the grace and power to live a new way of life as citizens of his kingdom.
Let's pray: Lord Jesus Christ, your word is life, joy, wisdom, and strength for us. Fill us with your Holy Spirit that we may have the strength and courage to embrace your will in all things and to renounce whatever is contrary to your will for us now and forever. Amen.
Photo credit: Ilustrated (Ist)