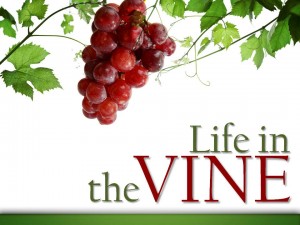 MY daily reflection and prayer: Wednesday, May 06, 2015
The Fifth Week of Easter
Dear my friends,
Here is the Gospel for us today according to John 15:1-8
"I am the true vine, and my Father is the vine dresser. Every branch of mine that bears no fruit, he takes away, and every branch that does bear fruit he prunes, that it may bear more fruit. You are already made clean by the word which I have spoken to you. Abide in me, and I in you. As the branch cannot bear fruit by itself, unless it abides in the vine, neither can you, unless you abide in me.
I am the vine, you are the branches. He who abides in me, and I in him, he it is that bears much fruit, for apart from me you can do nothing. If a man does not abide in me, he is cast forth as a branch and withers; and the branches are gathered, thrown into the fire and burned. If you abide in me, and my words abide in you, ask whatever you will, and it shall be done for you. By this my Father is glorified, that you bear much fruit, and so prove to be my disciples.
This is the Gospel of the Lord. Praise to you Lord Jesus Christ.
 ***
Jesus Christ teaches us, "I am the true vine, and my Father is the vine dresser." We notice here that it is God the Father who is the source growing Jesus Christ, the true vine. The Father and the Son are in perfect communion as One, providing us the perfect example of God's own loving communion to which we long to belong in this life.
Jesus Christ always experiences life to the fullest as He remains perfectly in His Father. It gives us hope for the same. God the Father, through Jesus Christ the true vine, is our source of eternal life.
We abide in Jesus Christ, the true vine first of all through our Baptism. Then we live and experince as a branche of the true vine only if we are growing every day in the Eucharist, prayer, and in charity.
When Jesus Christ speaks of himself as the true vine and we are the branches, he invites us all to abide in him both personally and communally. The branches are all of us as the member of the communion of his Church. Through his Church, Jesus Christ offers the abundant life which comes from God and which results in great fruitfulness.
In Perpetual Adoration of the Eucharist while worshipping Jesus Christ we are abiding in him as the member of the communion of his Church. We are worshipping him as the member of the communion of communities in one Church which is catholic and apostolic.
Let's pray: Lord Jesus Christ, you are the true vine and call us as your branches. Inflame our hearts with your love. Remove from it anything that would make us unfruitful in loving and serving you and others now and forever. Amen.