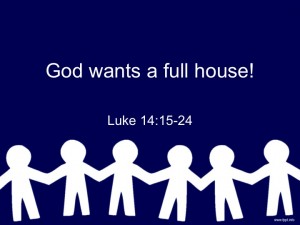 MY daily reflection and prayer: Tuesday November 4, 2014
Dear my friends, Here is the Gospel for us today, according to St. Luke 14:15-24.
One of those at table with Jesus said to him, "Blessed is the one who will dine in the Kingdom of God." He replied to him, "A man gave a great dinner to which he invited many. When the time for the dinner came, he dispatched his servant to say to those invited, 'Come, everything is now ready.' But one by one, they all began to excuse themselves. The first said to him, 'I have purchased a field and must go to examine it; I ask you, consider me excused.'
And another said, 'I have purchased five yoke of oxen and am on my way to evaluate them; I ask you, consider me excused.' And another said, 'I have just married a woman, and l therefore I cannot come.' The servant went and reported this to his master. Then the master of the house in a rage commanded his servant, 'Go out quickly into the streets and alleys of the town and bring in here the poor and the crippled, the blind and the lame.'
The servant reported, 'Sir, your l orders have been carried out and still there is room.' The master then ordered the servant, 'Go out to the highways and hedgerows and make people come in that my home may be filled. For, I tell you, none of those men who were invited will taste my dinner.'"
This is the Gospel of the Lord. Praise to You Lord Jesus Christ.
***
Jesus preaches about the invitation to the King's banquet table. We are invited to eat bread in His Kingdom. What does it mean?
In the perspective of the Bible, the invitation to share bread at the dinner table is the most notable sign of favor and intimate friendship. It is also one of the most beautiful images of heaven. The Lord Himself invites us to the most important banquet of all to participate in His table where He gives His body and blood as our spiritual food and drink.
We must be respond Jesus' invitation well. If Jesus Christ, the Lord has invited us as His friends to a banquet, why would we turn down His invitation? Personal invitation has been sent out well in advance to us, so we would have plenty of time to prepare for the upcoming event. Let's not put our own interests above His invitation.
Today we respond His invitation by participating in the Eucharist, even continuing in Perpetual Adoration of the Eucharist. Let's not allow any task or endeavor to absorb us so much that it keeps us from the thought of God. Let's not allow the media and other diversions to crowd out time for God in our daily Eucharist, prayer and worship.
Let's pray: Lord Jesus Christ, You invite us to Your banquet that we may share in Your joy. Help us to be ready to feast at Your banquet table in the Eucharist and Perpetual Adoration. Help us to seek Your Kingdom first and to lay aside anything that might hinder us from doing Your will, now and forever. Amen.
Girli Kebon Dalem