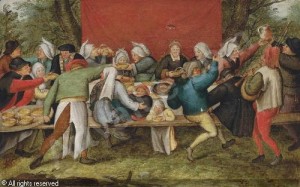 MY daily reflection and prayer: Sunday, October 12, 2014
They would not come to the feast.
Dear my friends,
Here is the Gospel for us today, according to St. Mathew 22:1-10.
Jesus again in reply spoke to the chief priests and elders of the people in parables, saying, "The kingdom of heaven may be likened to a king who gave a wedding feast for his son. He dispatched his servants to summon the invited guests to the feast, but they refused to come.
A second time he sent other servants, saying, 'Tell those invited: "Behold, I have prepared my banquet, my calves and fattened cattle are killed, and everything is ready; come to the feast."' Some ignored the invitation and went away, one to his farm, another to his business. The rest laid hold of his servants, mistreated them, and killed them.
The king was enraged and sent his troops, destroyed those murderers, and burned their city. Then he said to his servants, 'The feast is ready, but those who were invited were not worthy to come. Go out, therefore, into the main roads and invite to the feast whomever you find.' The servants went out into the streets and gathered all they found, bad and good alike, and the hall was filled with guests."
This is the Gospel of the Lord. Praise to You Lord Jesus Christ.
***
The Gospel today proclaims the most beautiful images of the wedding celebration and royal feast given by the King for his newly-wed son and bride. We can imagine that heaven is like the feast of all feasts in which the Lord of heaven and earth invites us to the most important banquet of all as members of Christ's own body, His bride the church.
Jesus Christ invites us to join with the wedding feast of the Lamb of God in which He offers His life as an atoning sacrifice for our sins. It is an invitation we cannot refuse! There, Jesus Christ wants us to be united with Himself in His heavenly kingdom of peace and righteousness.
Today, we respond this invitation of grace when we celebrate the Eucharist. Even, we continue it in Perpetual Adoration of the Eucharist. There, we worship lovingly Jesus Christ who invites each of us as His friends to His heavenly banquet that we may celebrate with Him and share in His joy. Are we ready to feast at the Lord's banquet table by celebrating the Eucharist and continuing in the Perpetual Adoration?
Let's pray: Lord Jesus Christ, may we always know the joy of living in Your presence and grow in the hope of seeing You face to face in your everlasting kingdom by celebrating the Eucharist and worshipping You in Perpetual Adoration, forever and ever. Amen.
Girli Kebon Dalem
»̶•̵̭̌•̵̭̌✽̤̈̊•Ɓέяќǎђ•Đǎlєm•✽̤̥̈̊•̵̭̌•̵̭̌«̶
"abdi Dalem palawija"
Majalah INSPIRASI, Lentera yang Membebaskan
Komisi Hubungan Antaragama dan Kepercayaan Keuskupan Agung Semarang
Photo credit: Illustrated (Art Value)