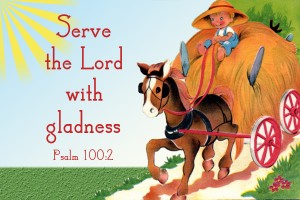 MY daily reflection and prayer: Tuesday, October 21, 2014:
Here is the Gospel for us today, according to St. Luke 12:35-38.
Jesus said to his disciples: "Gird your loins and light your lamps and be like servants who await their master's return from a wedding, ready to open immediately when he comes and knocks. Blessed are those servants whom the master finds vigilant on his arrival. Amen, I say to you, he will gird himself, have them recline at table, and proceed to wait on them. And should he come in the second or third watch and find them prepared in this way, blessed are those servants."
This is the Gospel of the Lord. Praise to You Lord Jesus Christ.
***
Today Jesus tells us a parable of being prepared to open the door at once when the Master of the house knocks and calls for his servants to let him in. Jesus says, "Blessed are those servants whom the master finds vigilant on his arrival."
Even, the Lord and Master will serve us if we open the door of our heart at once, even in the middle of the night when everyone is fast asleep. The master who returns from a wedding feast to his home late at night does the unthinkable when his servants greet him at the door. He rewards his faithful servants by serving them himself with the best provision, care, and service he can offer.
What does it mean? First, it is an invitation for us to be watchful and ready to serve the Lord when He calls us. It requires a listening ear and attentive spirit.
Second, the Lord Jesus has become a servant for our sake.
This parable illustrates the amazing generous spirit, servant-hearted love, and profound humility of God who is the exalted Lord and Master over all He has created.
As we believe, the Father has sent His only begotten Son to become a man for our salvation in Jesus Christ. He has shed His blood for us on the cross to redeem us. He who is equal with the Father, nonetheless, humbles Himself and becomes a servant for our sake (see Philippians 2:5-8).
Third, Jesus wants us to be prepared for His coming everytime – today, tomorrow, at the hour of our departure from this life, and when He comes again at the end of this present world to reward those who have believed in Him. He calls to us each and every day. He says, "Listen! I am standing and knocking at your door. If you hear my voice and open the door, I will come in and we will eat together" (Revelations 3:20). So, let's ask ourselves, if Jesus Christ knocks on our door today will we be ready and eager to receive Him faithfully? Do we listen for the voice of the Lord calling to us? Are we ready to receive Him today so that we may be nourished with His life-giving word that has power to transform us into His likeness and way of love, mercy, and truth, and goodness? We are answering all the questions well in Perpetual Adoration of the Eucharist. There, we learn to be ready to receive Him in all the times of our lives.
Let's pray: Lord Jesus Christ, You love us first and You give Your life for us. Fill us with a joyful heart and a generous spirit that is ready to serve and to do whatever You command. May we are ready to recieve and serve You, now and forever. Amen.
Girli Kebon Dalem
»̶•̵̭̌•̵̭̌✽̤̈̊•Ɓέяќǎђ•Đǎlєm•✽̤̥̈̊•̵̭̌•̵̭̌«̶
"abdi Dalem palawija"
Majalah INSPIRASI, Lentera yang Membebaskan
Komisi Hubungan Antaragama dan Kepercayaan Keuskupan Agung Semarang
Photo credit: Ilustrated