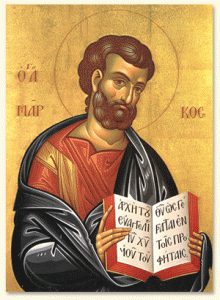 MY daily reflection and prayer: Saturday, April 25, 2015
The Third Week of Easter
Dear my friends, Here is the Gospel for us today according to Mark 16:15-20
And he said to them, "Go into all the world and preach the gospel to the whole creation. He who believes and is baptized will be saved; but he who does not believe will be condemned. And these signs will accompany those who believe: in my name they will cast out demons; they will speak in new tongues; they will pick up serpents, and if they drink any deadly thing, it will not hurt them; they will lay their hands on the sick, and they will recover."
So then the Lord Jesus, after he had spoken to them, was taken up into heaven, and sat down at the right hand of God. And they went forth and preached everywhere, while the Lord worked with them and confirmed the message by the signs that attended it. Amen.
This is the Gospel of the Lord. Praise to you Lord Jesus Christ.
***
Today is the feast of St. Mark the Evangelist. He is honored today in many Churches. Among the four gospels, St. Mark's account is unique in many ways. It is the shortest account and seems to be the earliest. St. Matthew and St. Luke made him reference to their gospel.
Who was St. Mark the Evangelist? He was an associate of Peter and likely wrote his gospel in Rome where Peter was based. St. Mark wrote his gospel in Greek. It was likely written for Gentile readers in general, and for the Christians at Rome in particular.
Like St. Luke, St. Mark was not one of the twelve apostles. He was chosen by the Holy Spirit to write the gospel account even though he wasn't one of the twelve apostles.
St Mark ends his gospel account with Jesus' last appearance to the apostles before his ascension into heaven. Jesus' last words to his apostles point to his saving mission and to their mission to be witnesses of his saving death and his glorious resurrection and to proclaim the good news of salvation to all the world. Their task is to proclaim the good news of salvation to all the nations.
In Perpetual Adoration of the Eucharist we also do this great commission which the risen Jesus Christ gives not only to the apostles but also to the whole church. We too have been given a share in this task to be heralds of the good news and ambassadors for Jesus Christ, the only savior of the world.
Let's pray: Lord Jesus Christ, through the gift of your Holy Spirit, you fill us with a spirit of praise and joy. Fill us with your resurrection joy and help us to live a life of praise and thanksgiving for your glory now and forever. Amen.