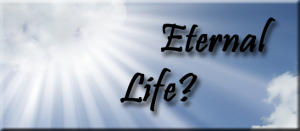 Daily reflection and prayer.  Monday, August 18, 2014
"Sell what you possess and you will have treasure in heaven" (Matthew 19:21).
Jesus said this word to a young man who came up to Him, saying, "Teacher, what good deed must I do, to have eternal life?" What a wonderful man! He wanted to have eternal life and came up to Jesus!
The young man wass not a bad man. He was even a good man, a pious one. Look at him! To the word of Jesus on keeping the commandments for having eternal life he said proudly "All these I have observed; what do I still lack?" (Matthew 19:21).
And now, this is an interesting moment. After hearing that the young man has observed and kept
the commandments, Jesus gives him a challenge. Jesus said to him, "If you would be perfect, go, sell what you possess and give to the poor, and you will have treasure in heaven; and come, follow me."
Ufgh! It's so difficult for him to hear the answer of Jesus.  So, when he heard this, he went away sorrowful and so sadly. Why? Because he had great possessions. He is the rich man but also the poor one before Jesus.
What we can learn from this story? We are able to ask ourselves: What gives hope and satisfaction to our desire for happiness and security? Are we like this young man?
He wanted the kind of lasting peace and happiness which money could not buy him. Jesus' answer makes him sorrowful because it is not what he was looking for. Jesus speaks something trouble in his heart.
Jesus wants him to give himself whole-heartedly to God. He is so sad due to he places his hope and security in what he possesses. It's why when Jesus challenges him to make God his one true possession and treasure, he becomes so sad and sorrowful. He is not happy at all. He goes away from Jesus with sadness rather than with joy!
We must realize now that the Lord himself is the greatest treasure we can possibly have. So, we must give up everything else to have the Lord as our treasure. He is the greatest joy for us.
Let's not be possessive to any thing. There is no other thing can make us satisfy than God alone. It is he can satisfy the deepest longing and desires of our heart.
Let's pray: Lord Jesus Christ, thanks be to God that You makes me realize that You are alone able to  satisfy the deepest longing in my heart. Nothing can compare to you. Keep me free from all possessiveness, greed and selfishness, that I may have joy in loving you only because You are my true Treasure, now and forever. Amin.
SALAM TIGA JARI: Persatuan Indonesia dalam Keragaman