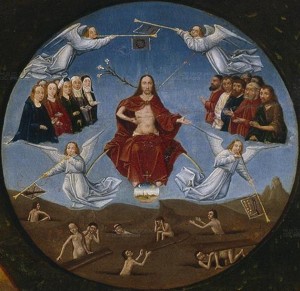 The Fourth Week of Lent
Dear my friends,
Here is the Gospel for us today according to St. John 5:17-30
But Jesus answered them, "My Father is working still, and I am working." This was why the Jews sought all the more to kill him, because he not only broke the Sabbath but also called God his Father, making himself equal with God. Jesus said to them, "Truly, truly, I say to you, the Son can do nothing of his own accord, but only what he sees the Father doing; for whatever he does, that the Son does likewise.
For the Father loves the Son, and shows him all that he himself is doing; and greater works than these will he show him, that you may marvel. For as the Father raises the dead and gives them life, so also the Son gives life to whom he will. The Father judges no one, but has given all judgment to the Son, that all may honor the Son, even as they honor the Father.
He who does not honor the Son does not honor the Father who sent him. Truly, truly, I say to you, he who hears my word and believes him who sent me, has eternal life; he does not come into judgment, but has passed from death to life. "Truly, truly, I say to you, the hour is coming, and now is, when the dead will hear the voice of the Son of God, and those who hear will live. For as the Father has life in himself, so he has granted the Son also to have life in himself, and has given him authority to execute judgment, because he is the Son of man.
Do not marvel at this; for the hour is coming when all who are in the tombs will hear his voice and come forth, those who have done good, to the resurrection of life, and those who have done evil, to the resurrection of judgment. "I can do nothing on my own authority; as I hear, I judge; and my judgment is just, because I seek not my own will but the will of him who sent me."
This is the Gospel of the Lord. Praise to you Lord Jesus Christ.
***
Jesus showed God's power to heal and restore people to wholeness of life. He also showed the mercy of God by releasing people from their burden of sin and guilt. He even claimed to have the power to raise the dead to life and to execute judgment on all the living and dead. So, it's not wrong that he claims authority and power over life and death itself. This clearly manifests the messianic signs.
Unfortunately, the Jews leaders could not accept Jesus' claim to be the Messiah, the anointed one sent by the Father to redeem his people. Even, they sought to kill him because he claimed an authority and equality with God which they could not accept. They failed to recognize that this was God's answer to the long-awaited prayers of his people as proclaimed in the first reading today, "In a time of favor I have answered you, in a day of salvation I have helped you" (Isaiah 49:8).
Truly, Jesus Christ was sent by the Father as "a covenant to the people" to reconcile them with God and  restore to them the promise of paradise and everlasting life. All of Jesus' words and actions reveal God's mercy and  justice. He fulfills the prophecy of Isaiah when he brings healing, restoration, and forgiveness to those who accept his divine message.
Jesus continued to show the Father's mercy by healing and restoring people, even on the Sabbath day of rest. It's why the Jews leader charged him as a Sabbath-breaker and a blasphemer. They wanted to kill him because he claimed equality with God.
According to Jesus God's love and mercy never cease for a moment also in the Sabbath day of rest. He also stated that he was not acting independently of God because his relationship is a close personal Father-Son relationship. He and the Father are united in heart, mind, and will. The mind of Jesus is the mind of God, and the words of Jesus are the words of God. His identity with the Father is based on complete love, trust and obedience.
In Perpetual Adoration of the Eucharist, we lovingly worship Jesus Christ who has taken away our sins upon himself and nailed them to the cross. He has the power to forgive us and to restore our relationship with God because he paid the price for our sins.
Let's pray: Lord Jesus, you teach us that to accept you is life, a life of abundant peace and joy with God. May we believe in you, the living Word of God, who became a man for our sake and our salvation. Increase our love for you and unite our heart and will with yours, now and forever. Amen.