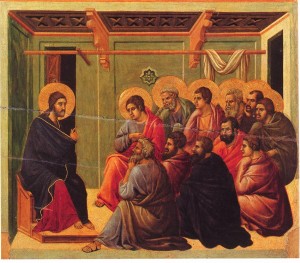 DEAR my friends, here is the Gospel for us today according to St. Luke 11:29-32
When the crowds were increasing, he began to say, "This generation is an evil generation; it seeks a sign, but no sign shall be given to it except the sign of Jonah. For as Jonah became a sign to the men of Nineveh, so will the Son of man be to this generation.
The queen of the South will arise at the judgment with the men of this generation and condemn them; for she came from the ends of the earth to hear the wisdom of Solomon, and behold, something greater than Solomon is here. The men of Nineveh will arise at the judgment with this generation and condemn it; for they repented at the preaching of Jonah, and behold, something greater than Jonah is here."
This is the Gospel of the Lord. Praise to you Lord Jesus Christ.
***
From the readings today, we can learn to pay careful attention to warning signs in our lives during this Lenten. Many fatalities could be avoided if we want to pay attention to such signs. Jesus Christ gave the Jews religious leaders serious warning to avert spiritual disaster when they pressed him to give proof for his claims. Jesus said in that he is God's sign and that they need no further evidence from heaven than his own person.
Jesus took the past experience of the Ninevites who recognized God's warning when Jonah spoke to them, and they repented. Jonah was God's sign and his message was the message of a merciful God for the people of Nineveh.
And Jesus said that he was greater than Jonah. Jesus confirmed his message with many miracles in preparation for the greatest sign of all that was his death and resurrection. But unfortunately the Jews religious leaders were not content to accept the signs right before their eyes. They had rejected Jesus as God's Anointed One (= Messiah).
In Perpetual Adoration of the Eucharist we learn to repent and to accept Jesus Christ as the greatest sign of the endless loving God. He has come to set us free from slavery to our sins. He searches our hearts, not to condemn us, but to show us where we need his saving grace and help. He calls us to seek him with true repentance, humility, and the honesty to see our sins and then to repent and to accept his love and will for our lives. He surely will transform us if we listen to his word and allow him to work in our lives.
Let's pray: Lord Jesus Christ, renew our minds, hearts, and souls that we accept you as the greatest sign of God's love. Change our lives and fill us with your wisdom that we love your ways. Give us strength and courage to resist temptation and stubborn willfulness that we may truly desire to do what is pleasing to you and to love others who need our help now and forever. Amen.