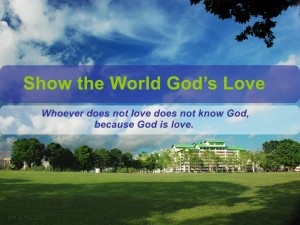 DEAR my friends, here is the Gospel for us today according to St. Mark 3:31-35
And his mother and his brothers came; and standing outside they sent to him and called him. And a crowd was sitting about him; and they said to him, "Your mother and your brothers are outside, asking for you." And he replied, "Who are my mother and my brothers?" And looking around on those who sat about him, he said, "Here are my mother and my brothers! Whoever does the will of God is my brother, and sister, and mother."
This is the Gospel of the Lord. Praise to you Lord Jesus Christ.
***
Read the Gospel today, we may ask: Why does Jesus seem to ignore his own relatives when they want to see him? He says, "Who are my mother and my brothers?" And looking around on those who sat about him, he said, "Here are my mother and my brothers! Whoever does the will of God is my brother, and sister, and mother."
His word makes his love and respect for his mother and his relatives is questionable. But surely, his love and respect for his mother and his relatives is unquestionable.
What does Jesus want with his word? Jesus wants to teach his disciples a spiritual lesson and truth about the kingdom of God. He points to another higher reality of relationships, namely our relationship with God and with those who belong to God.
We understand that the essence of being a Christian is certainly more than doctrine, precepts, and commandments. It is first and foremost a relationship that is a relationship of trust, affection, commitment, loyalty, faithfulness, kindness, thoughtfulness, compassion, mercy, helpfulness, encouragement, support, strength, protection, and so many other qualities that bind people together in mutual love, understanding, and unity. God offers us the greatest of relationships that is the union of heart, mind, and spirit with himself, the very author and source of love.
In Perpetual Adoration of the Eucharist we worship Jesus Christ who never fails, never forgets, never compromises, never lies, never lets us down nor disappoints us. His love is consistent, unwavering, unconditional, and unstoppable. There we build all of our relationships to be rooted in his love.
Let's pray: Lord Jesus Christ, we want to grow in love and friendship with you. Grant the Holy Spirit to transform our heart, mind, and will to enable us to love freely and generously as you loves. In all our relationships, may your love be our constant guide for choosing what is good and for rejecting what is contrary to your will now and forever. Amen.