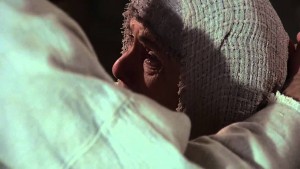 DEAR my friends, here is the Gospel for us today according to St. Mark 7:24-30
And from there he arose and went away to the region of Tire and Sidon. And he entered a house, and would not have any one know it; yet he could not be hid. But immediately a woman, whose little daughter was possessed by an unclean spirit, heard of him, and came and fell down at his feet. Now the woman was a Greek, a Syrophoenician by birth.
And she begged him to cast the demon out of her daughter. And he said to her, "Let the children first be fed, for it is not right to take the children's bread and throw it to the dogs." But she answered him, "Yes, Lord; yet even the dogs under the table eat the children's crumbs." And he said to her, "For this saying you may go your way; the demon has left your daughter." And she went home, and found the child lying in bed, and the demon gone.
This is the Gospel of the Lord. Praise to you Lord Jesus Christ.
***
This passage of the Gospel today describes a Gentile woman as an outsider who was not a member of the chosen people. She puts Jesus on the spot by pleading with him to show mercy to her daughter who was tormented with an evil spirit. At first Jesus seemed to pay no attention to her. Jesus very likely did this to test her sincerity and to awaken faith in her.
Even Jesus said to her, "Let the children first be fed, for it is not right to take the children's bread and throw it to the dogs." What did Jesus mean by saying "throwing bread to the dogs"?
In the time of Jesus, the Jews often spoke of the Gentiles with arrogance as "unclean dogs". It means that they were excluded from God's covenant and favor with Israel. For the Greeks the "dog" was a symbol of dishonor.
Amazing, this woman immediately responds with faith "even the dogs eat the crumbs". It's why Jesus praises a Gentile woman for her persistent faith and for her affectionate love.
In Perpetual Adoration of the Eucharist we learn from the Gentile woman who began with a request to Jesus and she ended on her knees in worshipful prayer to the living God. We believe that no one who ever sought Jesus with faith was refused his help. Let's seek Jesus with expectant faith.
Let's pray: Lord Jesus Christ, may we trust you always and never doubt your loving care and mercy. Increase our faith in your saving help and deliver us from all evil and harm now and forever. Amen.
Photo credit: Ilustrated (Ist)