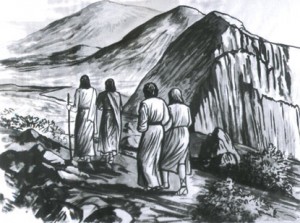 THE Second Sunday of Lent
Dear my friends, here is the Gospel for us today according to St. Mark 9:2-10
Six days later, Jesus took with him Peter and James and John, and led them up a high mountain apart, by themselves. And he was transfigured before them, and his clothes became dazzling white, such as no one on earth could bleach them. And there appeared to them Elijah with Moses, who were talking with Jesus.
Then Peter said to Jesus, "Rabbi, it is good for us to be here; let us make three dwellings, one for you, one for Moses, and one for Elijah." He did not know what to say, for they were terrified. Then a cloud overshadowed them, and from the cloud there came a voice, "This is my Son, the Beloved; listen to him!"
Suddenly when they looked around, they saw no one with them any more, but only Jesus. As they were coming down the mountain, he ordered them to tell no one about what they had seen, until after the Son of Man had risen from the dead. So they kept the matter to themselves, questioning what this rising from the dead could mean.
This is the Gospel of the Lord. Praise to you Lord Jesus Christ.
***
The Gospel today records and proclaims that the Lord Jesus Christ reveals his glory in the mountain in the presence of three of his beloved disciples: Peter, James, and John. They see Jesus transfigured on the mountain when his face changed in appearance and his clothing became dazzling white. The Gosepl records that Jesus Christ appeared in glory with Moses, the great lawgiver of Israel, and with Elijah, the greatest of the prophets fulfilling his Father's will. God the Father also spoke with him and gave his approval to the disciples as well as to all of us: This is my beloved Son; listen to him.
What is the significance of this mysterious appearance for us today? In the context of our Lenten, Jesus goes to the mountain knowing full well what awaits him in Jerusalem. He must bear his betrayal, rejection and crucifixion. The Father glorifies his son because he obeys although he should bear his cross to set us free from the tyrany of sins. He has embraced his cross to obtain the crown of glory. It awaits also each one of us, if we want to follow in his footsteps by listening him.
Jesus Christ wants to share his glory with each of us today. He not only wants us to see his glory. He also wants to share this glory with us. Even he shows us the way to the Father's glory by following him, obeying his words and taking the path he has chosen for us. Then, we will receive the blessings of his Father's kingdom.
In Perpetual Adoration of the Eucharist, as the three of his disciples Peter, James, and John were privileged witnesses of the glory of Christ; so we are also called to be witnesses of his glory. He wants to reveal his glory to us, his beloved disciples. There we are not only worshipping him but also listening him. Let's us seek his presence with faith and reverence.
Let's pray: Lord Jesus Christ, keep us always alert and awake to you, to your word, your action, and your daily presence in our lives, especially in Perpetual Adoration of the Eucharist. Let us listen to your words faitfhully that we are able to see your glory now and forever. Amen.