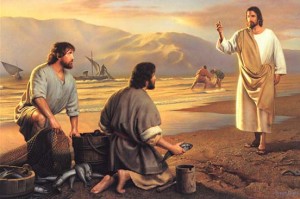 DEAR  my friends, here is the Gospel for us today according to St. Mark 2:13-17
Jesus went out along the sea. All the crowd came to him and he taught them. As he passed by, he saw Levi, son of Alpheus, sitting at the customs post.
Jesus said to him, "Follow me." And he got up and followed Jesus.
While he was at table in his house, many tax collectors and sinners sat with Jesus and his disciples; for there were many who followed him. Some scribes who were Pharisees saw that Jesus was eating with sinners and tax collectors and said to his disciples, "Why does he eat with tax collectors and sinners?"
Jesus heard this and said to them, "Those who are well do not need a physician, but the sick do. I did not come to call the righteous but sinners."
This is the Gospel of the Lord. Praise to you Lord Jesus Christ.
***
"Why Does Your Teacher Eat with Tax Collectors and Sinners?" Say some scribes who are Pharisees to his disciples when they see Jesus eating with sinners and tax collectors.
We can learn two lessons. First is about the depth of his love for every soul. Second, we must love others unconditionally.
"God proves his love for us in that while we still were sinners Christ died for us" (Romans 5:8). Loving a person unconditionally does not mean that we blithely accept their sin. We love them despite their sin and in the hope that one day they will leave it aside.
Mercy is the one form of love that we can never directly exercise toward God, yet it is his greatest expression of love for each one of us. Through Jesus' dying on a cross for the forgiveness of our sins, God has revealed the pinnacle of love.
In Perpetual Adoration of the Eucharist, by worshipping Jesus Christ, we learn to practice mercy, forgiveness, and patience towards those around us. There we are imitating the highest form of love of Jesus Christ.
Let's pray: Lord Jesus Christ, the call to follow you is a call to conversion of heart. Touch our hearts with your grace in such a way that our thoughts and actions may always reflect our desire to imitate your example of love. Make us patient in each situation and capable of forgiving those who may cause us harm or create difficulties, now and forever. Amen.
Photo credit: Ilustrated (Ist)