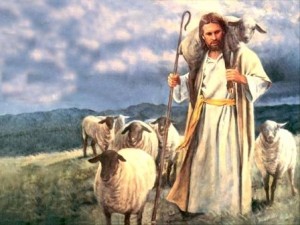 DEAR  my friends, Here is the Gospel for us today according to St. Mark 6:30-34
The apostles returned to Jesus, and told him all that they had done and taught. And he said to them, "Come away by yourselves to a lonely place, and rest a while." For many were coming and going, and they had no leisure even to eat. And they went away in the boat to a lonely place by themselves. Now many saw them going, and knew them, and they ran there on foot from all the towns, and got there ahead of them. As he went ashore he saw a great throng, and he had compassion on them, because they were like sheep without a shepherd; and he began to teach them many things.
This is the Gospel of the Lord. Praise to you Lord Jesus Christ.
***
What does the image of a shepherd tell us about God's care for us? God himself will give us a good shepherd. Even he himself leads us like a good shepherd. Jesus Christ is also our good shepherd.
In the Gospel we read that Jesus Christ tells his disciples that he is the Good Shepherd who is willing to lay down his life for us his sheep (see Matthew 18:12, Luke 15:4, John 10). When he see the crowd in need of protection and care, he is moved to respond with compassionate concern. His love is a personal love for each and every person who comes to him in need.
In Perpetual Adoration of the Eucharist we worship Jesus Christ as the Good Shepherd of our souls. There we find the peace and security of a life freely submitted to Jesus, the Good Shepherd. In the person of Jesus Christ we experience the unceasing patience of God's love.
Let's pray: Lord Jesus Christ, you guard and protect us from all evil. Help us to stand firm in your word and to trust in your help in all circumstances. May we always find rest and refuge in the shelter of your presence now and forever. Amen.