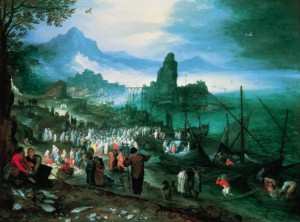 DEAR my friends, here is the Gospel for us today according to St. Matthew 4:12-17, 23-25
When Jesus heard that John had been arrested, he withdrew to Galilee. He left Nazareth and went to live in Capernaum by the sea, in the region of Zebulon and Naphtali, that what had been said through Isaiah the prophet might be fulfilled:
Land of Zebulon and land of Naphtali, the way to the sea, beyond the Jordan, Galilee of the Gentiles, the people who sit in darkness have seen a great light, on those dwelling in a land overshadowed by death light has arisen.
From that time on, Jesus began to preach and say, "Repent, for the Kingdom of heaven is at hand."
He went around all of Galilee, teaching in their synagogues, proclaiming the Gospel of the Kingdom, and curing every disease and illness among the people. His fame spread to all of Syria, and they brought to him all who were sick with various diseases and racked with pain, those who were possessed, lunatics, and paralytics, and he cured them. And great crowds from Galilee, the Decapolis, Jerusalem, and Judea, and from beyond the Jordan followed him.
This is the Gospel of the Lord. Praise to you Lord Jesus Christ.
***
No one can rob the joy of the Gospel. John the Baptist's enemies had sought to silence him, but the good news of God's kingdom of salvation cannot be silenced. As soon as John had finished his testimony Jesus began his in Galilee.
The prophet Isaiah foretold that the good news of salvation would reach Jews and Gentiles in the "land beyond the Jordan, Galilee of the nations" (Isaiah 9:1). Jesus begins the proclamation of the Gospel here to fulfill the word of God. That time is now fulfilled in Jesus who brings the light and truth of the Gospel to the world.
Jesus takes up John's message of repentance and calls his hearers to believe in the good news he has come to deliver. Jesus brings the good news of peace. He comes to reconcile and restore us to friendship with God. He comes to dwell with us and to give us a home with him in his heavenly kingdom.
In Perpetual Adoration of the Eucharist we trust in the Lord Jesus Christ who brings the joy of the Gospel and sets us free from sins and death. Jesus fulfills the promise of God to reward those who seek him with the treasure of heaven.
Let's pray: Lord Jesus Christ, your ways are life and light! Let your word penetrate our hearts and transform our minds that we may see your power and glory. Help us to choose your ways and to do what is pleasing to you now and forever. Amen.