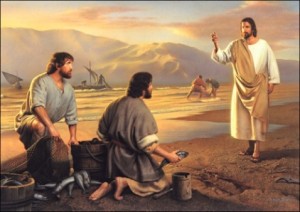 DEAR my friends,
here is the Gospel for us today according to St. Mark 1:14-20
After John had been arrested, Jesus came to Galilee proclaiming the Gospel of God: "This is the time of fulfillment. The Kingdom of God is at hand. Repent, and believe in the Gospel."
As he passed by the Sea of Galilee he saw Simon and his brother Andrew casting their nets into the sea; they were fishermen. Jesus said to them, "Come after me, and I will make you fishers of men." Then they left their nets and followed him. He walked along a little farther and saw James, the son of Zebedee, and his brother John. They too were in a boat mending their nets. Then he called them. So they left their father Zebedee in the boat along with the hired men and followed him.
This is the Gospel of the Lord. Praise to you Lord Jesus Christ.
***
After Jesus was baptized in the River Jordan and anointed by the Spirit he begins his ministry of preaching the Gospel, the good news, that the kingdom of God was now at hand for all who were ready to receive it. Are we ready to accept it now and forever?
In the Bible, the word kingdom means something more than a territory or an area of land. It literally means "sovereignty" or "reign" and the power to "rule" and exercise authority. God would establish his kingdom not just for one nation or people but for the whole world. The Psalmist tells us that God's throne is in heaven and his rule is over all. His kingdom is full of glory, power, and splendor (see Psalm 103:19; 145:11-13).
The Book of Daniel tells us that his kingdom is bigger and more powerful than anything we can imagine because it is universal and everlasting. It is given to the Son of Man (Daniel 4:3; 7:14,18,22,27). The Son of Man is a Messianic title for God's anointed King.
In the New Testament, word for "Messiah" is "Christ" which literally means the "Anointed One" or the "Anointed King". God sent us his Son not to establish an earthly kingdom but to bring us into his heavenly kingdom. It is a kingdom ruled by truth, justice, peace, and holiness. The kingdom of God is the central theme of Jesus' mission. It's the core of his gospel message.
How can we enter the kingdom of God? According to Jesus, we can enter it by repenting and believing. In Perpetual Adoration of the Eucharist we worship and submit to Christ's rule and believe the gospel message by which Jesus gives us the grace and power to live a new way of life as citizens of his kingdom.
Let's pray: Lord Jesus Christ give us grace to repent and to change our ways of thinking, attitude, disposition, and life choices so that You can be the Lord and Master of our hearts rather than sin, selfishness, and greed. May we believe in You as you have called us personally by name, now and forever. Amen.
Photo credit: Ilustrated