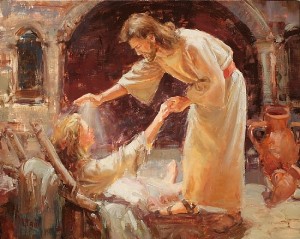 DEAR my friends, here is the Gospel for us today according to St. Mark 6:53-56
And when they had crossed over, they came to land at Genesareth, and moored to the shore. And when they got out of the boat, immediately the people recognized him, and ran about the whole neighborhood and began to bring sick people on their pallets to any place where they heard he was. And wherever he came, in villages, cities, or country, they laid the sick in the market places, and besought him that they might touch even the fringe of his garment; and as many as touched it were made well.
This is the Gospel of the Lord. Praise to you Lord Jesus Christ.
***
The Gospel today invites us to recognize the Lord's presence in our lives. The Gospel records that when Jesus came the people immediately recognized him.
They recognized that Jesus had power from God to heal them. When they pressed upon him and touched the fringe of his garment, they were healed. The Lord Jesus is ever ready to meet our needs as well.
Let's ask him faith for it is an entirely free gift which he makes to us through the power of the Holy Spirit. The Holy Spirit opens our eyes of the mind and helps us to understand, accept, and believe in God.
In Perpetual Adoration of the Eucharist we let our lives grow in faith by listening to God's word with trust and submission. We also pray to the Lord that we will be stronger in our faith. There Jesus Christ teaches us how to pray in faith for his will that we are able to follow him faithfully and serve him generously.
Let's pray: Lord Jesus Christ increase our faith and gratitude for your merciful love. Let our hearts sing for joy in your presence. Give us eyes of faith to recognize your presence. Fill us with your Holy Spirit that we may walk in your way of love and peace now and forever. Amen.