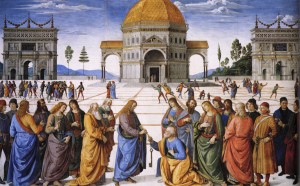 Dear my friends, here is the Gospel for us today according to St. Mark 8:11-13
The Pharisees came and began to argue with Jesus, seeking from him a sign from heaven, to test him. And he sighed deeply in his spirit, and said, "Why does this generation seek a sign? Truly, I say to you, no sign shall be given to this generation." And he left them, and getting into the boat again he departed to the other side.
This is the Gospel of the Lord. Praise to you Lord Jesus Christ.
***
The Gospel today records that the Pharisees tested Jesus to see if he had a genuine sign from heaven to back his Messianic claims. Jesus knew the hearts of those who came to test him. So he gave them no sign except himself and the ultimate proof of his divinity when he rose from the dead. What can we reflect on this passage?
First, Jesus reveals himself and makes his presence known to us in many ways. We can meet him in his word and in the Eucharist. We find his presence in his church as his body. Of course we can also experience his loving presence in his creation, even in the everyday circumstances of our lives.
Second, do we really seek Jesus Christ, the Lord in our lives? If we seek him, we will surely find him. If we seek him with confident, he will give us whatever we need to understand and carry out his will.
In Perpetual Adoration of the Eucharist we worship Jesus Christ who assures us of his daily presence and the promise that he will never leave us. Let nothing disturb us, let nothing frighten us to find and worship him perpetually. All things will pass but Jesus Christ never changes. Is he enough for us?
Let's pray: Lord Jesus Christ, may we always recognize your saving presence in our lives and never forget your promises when we encounter trials and difficulties. Give us faith that never wavers, hope that never fades, and love that never grows cold forever and ever. Amen.