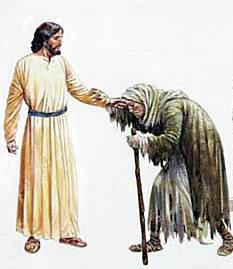 DEAR my friends, here is the Gospel for us today according to St. Luke 5:12-16
It happened that there was a man full of leprosy in one of the towns where Jesus was; and when he saw Jesus, he fell prostrate, pleaded with him, and said, "Lord, if you wish, you can make me clean." Jesus stretched out his hand, touched him, and said, "I do will it. Be made clean." And the leprosy left him immediately. Then he ordered him not to tell anyone, but "Go, show yourself to the priest and offer for your cleansing what Moses prescribed; that will be proof for them." The report about him spread all the more, and great crowds assembled to listen to him and to be cured of their ailments, but he would withdraw to deserted places to pray.
This is the Gospel of the Lord. Praise to You Lord Jesus Christ.
***
No one who calls Jesus is refused his help. Even the untouchables and the outcasts of Jewish society find help in him.
Unlike the people of Jesus' time who fled at the sight of a leper, Jesus touched the leper who approached him and he made him whole and clean. The lepers were outcasts of society. Their physical condition was terrible. Even, they were regarded as "already dead" also even by their relatives. The Jewish law forbade anyone from touching or approaching a leper, lest ritual defilement occur.
Let's learn from the leper in Gospel today. He approaches Jesus confidently and humbly, expecting that Jesus can and will heal him. At the time of Jesus, normally a leper would be stoned or at least warded off if he tried to come near a rabbi. Jesus was a Rabbi but he accepted the leper lovingly.
In the Gospel today we read, Jesus not only grants the leper his request, but he demonstrates the personal love, compassion, and tenderness of God in his physical touch. Jesus meet the man's misery with compassion and tender kindness. He communicates the love and mercy of God in a sign that speaks more eloquently than words. He touches the man and makes him clean, not only physically but spiritually as well.
Like the leper, in Perpetual Adoration of the Eucharist we approach Jesus. There Jesus Christ is always ready to show us his mercy and to free us from whatever makes us unclean, unapproachable, or unloving.
Let's pray: Lord Jesus Christ, inflame our hearts with your love and make us clean and whole in body, mind, and spirit. May we never doubt your love nor cease to tell others of your mercy and compassion now and forever. Amen.
Holy Stadium JKI Semarang, while having general repetition for celebrating Ecumenical Christmas