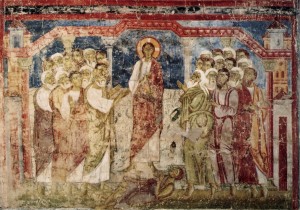 DEAR friends, here is the Gospel for us today according to Mark 1:21-28
And they went into Capernaum; and immediately on the Sabbath he entered the synagogue and taught. And they were astonished at his teaching, for he taught them as one who had authority, and not as the scribes. And immediately there was in their synagogue a man with an unclean spirit; and he cried out, "What have you to do with us, Jesus of Nazareth? Have you come to destroy us? I know who you are, the Holy One of God."
But Jesus rebuked him, saying, "Be silent, and come out of him!" And the unclean spirit, convulsing him and crying with a loud voice, came out of him. And they were all amazed, so that they questioned among themselves, saying, "What is this? A new teaching! With authority he commands even the unclean spirits, and they obey him." And at once his fame spread everywhere throughout all the surrounding region of Galilee.
This is the Gospel of the Lord. Praise to you Lord Jesus Christ.
***
We believe that God's word has power to set us free and to transform our lives. Jesus teaches and speaks with authority. He speaks the word of God as no one has spoken it before. When Jesus speaks he needs no authorities to back his statements. He commands even the demons obey him.
Jesus speaks and works with loving authority. It makes our faith perfect because the word of Christ has power to set us free from all that would keep us bound in sin, deception, and despair.
The power and authority of Jesus' word changes our lives. He gives us his words to enlighten our minds that we may grow in his truth and in the knowledge of his great love for each of us. His words nourishes our faith.
In Perpetual Adoration of the Eucharist we approach God's word submissively and worship Jesus Christ with an eagerness. There we are in a much better position to learn what God wants to teach us through his word. Let's be eager to be taught by the Lord and to conform our lives according to his word.
Let's pray: Lord Jesus Christ, your word is power and life. May we never doubt your saving love and mercy, and the power of your word to bring healing and deliverance to each of us now and forever. Amen.