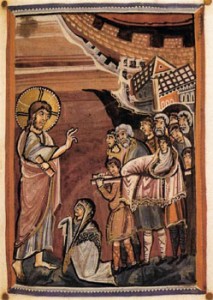 Dear my friends,
Here is the Gospel for us today according to St. Luke 18:1-8
Jesus told his disciples a parable about the necessity for them to pray always without becoming weary. He said, "There was a judge in a certain town who neither feared God nor respected any human being.
And a widow in that town used to come to him and say, 'Render a just decision for me against my adversary.' For a long time the judge was unwilling, but eventually he thought, 'While it is true that I neither fear God nor respect any human being, because this widow keeps bothering me I shall deliver a just decision for her lest she finally come and strike me.'"
The Lord said, "Pay attention to what the dishonest judge says. Will not God then secure the rights of his chosen ones who call out to him day and night? Will he be slow to answer them? I tell you, he will see to it that justice is done for them speedily. But when the Son of Man comes, will he find faith on earth?"
This is the Gospel of the Lord. Praise to You Lord Jesus Christ.
***
Today we meet Jesus in the Gospel who tells us a story the persistence of a widow who wears down an unscrupulous judge until he gives her justice. From this story we can learn on how we must trust in God in our daily lives.
In the Gospel, Jesus illustrates how God as our Judge is much quicker to bring us His justice, blessing, and help when we need it. Unfortunately, we can often easily lose heart and forget to ask our heavenly Father for His grace and help.
With this parable Jesus wants to remind us and to give us fresh hope and confidence. How often are we living without hope in God. Jesus invites us to live with persistence hope and confidence in God. From the Gospel today we learn to put our trust in God always.
Jesus ends his parable with a probing question for us. Will we have faith that perseveres to the end until Jesus Christ returns in glory to judge the living and the dead?
Surely, in Perpetual Adoration of the Eucharist, we live our faith as an entirely free gift that God makes to us. It is an amazing grace from God for us. There we try to live, grow, and persevere in faith until the end. We also ask Him that we nourish our faith with His love and word.
Let's pray with expectant faith and confidence in God's merciful care and providence for us. Lord Jesus Christ, make our faith strong that we may never doubt Your promises. When we face trials and difficulties, help us to trust in Your unfailing love and to find joy and contentment in You alone, especially through Perpetual Adoration of the Eucharist, now and forever. Amen.
Girli Kebon Dalem
"abdi Dalem palawija"
Photo credit: Ist