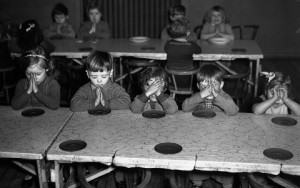 MY  daily reflection and prayer: Saturday, October 11, 2014
Dear my friends,
Here is the Gospel for us today, according to St. Luke 11:27-28.
While Jesus was speaking, a woman from the crowd called out and said to him, "Blessed is the womb that carried you and the breasts at which you nursed." He replied, "Rather, blessed are those who hear the word of God and observe it."
Happy are we who hear the word of God and keep it faithfully. Your word o Lord is the way, the truth and the life for us.
***
Do not misunderstanding! Jesus never denies His mother! When a woman wishes to compliment Jesus by praising His mother, Jesus does not deny the truth of the blessing she pronounces. By saying, "Rather, blessed are those who hear the word of God and observe it" He wants to emphasize that nobody has done the word of God and be blessed than Mother Marry. So blessed is she!
Mother Marry has realized it when she sings, "All generations will call me blessed (Luke 1:48). As we know it well from the Scripture,
Mary humbly submits herself to the miraculous plan of God for the incarnation of His only begotten Son. The Word of God made flesh in her womb when she declares: I am the handmaid of the Lord; let it be done to me according to your word (Luke 1:38). Mary hears the word spoken to her by the angel. She not only believes it but also does it faithfully!
In the Gospel today we read, Jesus adds to her song by pointing to the source of all true blessedness or happiness that is union with God in heart, mind, and will. This word of Jesus is similar to His other word that whoever does the will of God is a friend of God and a member of his family. We are really happy because we know our God personally and we find joy in hearing and obeying His word.
In Perpetual Adoration of the Eucharist, we worship Jesus who shows our goal in life. The very reason of our lives is for union with God. In Adoration we realize that we are made for God and our hearts are restless until they rest in Him.
Let's pray: Lord Jesus Christ; whoever follows You and seek the will of God enter into a new family, a family of saints here on earth and in heaven. You change our relationships and show us that true kinship is not just a matter of flesh and blood. You teach us that our adoption as sons and daughters of God transforms all our relationships and requires a new order of loyalty to God and His kingdom. May we hunger for God and for His word and keep it faithfully, now and forever. Amen.
Girli Kebon Dalem
»̶•̵̭̌•̵̭̌✽̤̈̊•Ɓέяќǎђ•Đǎlєm•✽̤̥̈̊•̵̭̌•̵̭̌«̶
"abdi Dalem palawija"
Majalah INSPIRASI, Lentera yang Membebaskan
Komisi Hubungan Antaragama dan Kepercayaan Keuskupan Agung Semarang
Kredit foto: Ilustrasi