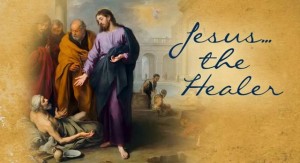 MY daily reflection and prayer:
Monday, March 16, 2015; The Fourth Week of Lent
Dear my friends, Here is the Gospel for us today according to St. John 4:43-54
After the two days he departed to Galilee. For Jesus himself testified that a prophet has no honor in his own country. So when he came to Galilee, the Galileans welcomed him, having seen all that he had done in Jerusalem at the feast, for they too had gone to the feast. So he came again to Cana in Galilee, where he had made the water wine.
And at Capernaum there was an official whose son was ill. When he heard that Jesus had come from Judea to Galilee, he went and begged him to come down and heal his son, for he was at the point of death. Jesus therefore said to him, "Unless you see signs and wonders you will not believe."
The official said to him, "Sir, come down before my child dies." Jesus said to him, "Go; your son will live." The man believed the word that Jesus spoke to him and went his way. As he was going down, his servants met him and told him that his son was living. So he asked them the hour when he began to mend, and they said to him, "Yesterday at the seventh hour the fever left him." The father knew that was the hour when Jesus had said to him, "Your son will live"; and he himself believed, and all his household. This was now the second sign that Jesus did when he had come from Judea to Galilee.
This is the Gospel of the Lord. Praise to you Lord Jesus Christ.
***
The first reading tells us that Isaiah prophesied that God would come not only to restore his people, he would also come to recreate new heavens and a new earth (Isaiah 65:17). The Gospel proclaims that Jesus' miracles are signs that manifest the presence of God and the coming of his kingdom of power and glory.
It comes true in the experience of a court official who searching of Jesus, the Galilean carpenter. He had to swallow his pride and put up with some ridicule from his cronies. When he found him, Jesus seemed to put him off with the blunt statement that people would not believe unless they saw some kind of miracle or sign from heaven.
In this case, Jesus likely had to test the man to see if his faith was in earnest. If he turned away in irritation or with discouragement, he would prove to be insincere. Jesus, perceiving his faith, sent him home with the assurance that his prayer had been heard.
Let's imagine that it was probably not easy for this man to return to his family with only an assuring word from Jesus that his son would be healed. He wanted Jesus came to this man's house and laid his hands on his dying son. But, without a moment's hesitation, the court official believed in Jesus and took him at his word. So, he began his journey back home with renewed faith and hope. He was ready to face whatever might await him.
And see, even before he could make it all the way back to his home town, news reached him that his son had recovered. What astonishment must have greeted his family and friends when they heard that his son was instantly restored to health at the very moment when Jesus had pronounced the words, "Your son will live!"
In Perpetual Adoration of the Eucharist, we learn from the court official to trust in Jesus Christ who will show his generous kindness and extravagant love in miraculous healings. We need healing, pardon, change, and restoration from him. If we seek him with trust and expectant faith, he will not disappoint us. He will meet us more than half way and give us what we need.
Let's pray: Lord Jesus Christ, you never refused us who put our trust in you. We surrender our doubts and fears, our pride and guilt at your feet, and trust in your saving word and healing love. We trust in you for your love never fails and your mercy is unceasing. Make us strong in faith, persevering in hope, and constant in love now and forever. Amen.
Photo credit: Ist