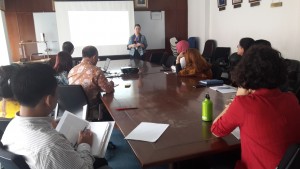 BEFORE ending their internship in UCLG ASPAC this mid February 2015, the three Australian young ladies finally have their opportunity to share with all staff members in the Secretariat Office in Central Jakarta on their experiences, lessons learned as well as their hopes for the future. With Inti, an intern from Germany, as the moderator of the meeting, a presentation from Candice, Seenying, and Nicole –the Australian trio—took place in the UCLG ASPAC's Secretariat Office
Candice took the lead.
Born and raised in Sunshine Coast in Queensland, Candice is a person with a strong enthusiasm in urban safety and open space issues. She was really excited to meet the Mayor of Bandung, Mohammad Ridwan Kamil and learn about the projects in store for the capital city of West Java Province.
Indonesia became Candice's fist destination to experience a culturally diversed society. Meeting with lots of people in Yogyakarta, Bogor, and Bandung has given her a positive impression on Indonesian hospitality and generosity.
The same thing happens in the Secretariat where she met lots of people from various different cultural background. Candice said that working with UCLG ASPAC has strongly affected her heart and mind that her affectionate love for urban design and open space in public areas has strengthened. "I feel that UCLG ASPAC has fuelled strong energy and enthusiasm in my heart and mind," she said.
Simply put, the mind and heart of interns are enhanced through internship with UCLG ASPAC's Secretariat in Central Jakarta, Indonesia.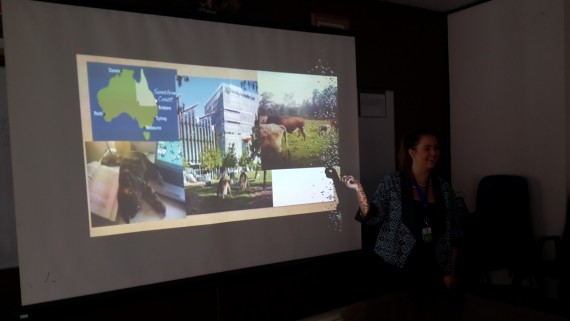 Seenying was second to present her presentation.
As an aspiring anthropologist, she admits, her experiences in shelters across Adelaide has allowed her to see the vulnerability of Australia in pockets of poverty in all shapes and forms. "It was these people from those pockets of poverty who had taught me the true meaning of generosity and compassion," according to the Adelaide-based intern.
The memories she shared with them, she adds, are one that must be protected with the utmost respect. "As a good ambassador of Australia, it is these people who I have come to represent, whose kindness I can only repay with a lifetime of service to humanity, because without them, I would literally not be here today," recalls this Malaysian-born Australian.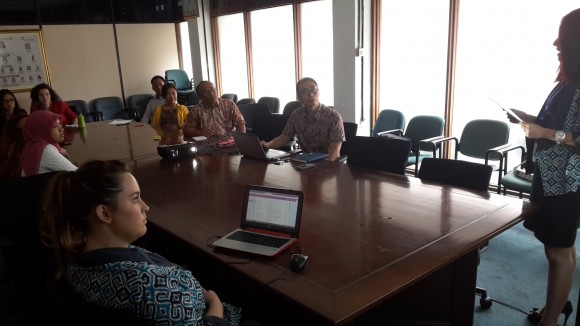 Through daily activities in UCLG ASPAC's Secretariat Office in Central Jakarta and through conversations she had with various people during her internship in Indonesia, Seenying admits that the gap between the rich and the poor could be better bridged with improved engagement between the public and private sector. "Public sectors need to enhance its efficiency and the private sectors need to find a cost effective way to include social responsibility in their profit making business," said Seenying.
Despite of a very brief internship, she adds that she has seen many promising potentials in UCLG ASPAC. "It is not because UCLG ASPAC is the biggest section within UCLG with a formidable network span of over 7,000 local authorities –representing more than half of the world's population, but it is precisely because of the unique capabilities that each of the staff member has brought to this organization which together has made UCLG ASPAC incredible."
To end her moving presentation, Seenying concludes, "We may or may not cross path again in the future, however, I hope that I have been as inspiring in your journey as you have been in mine."
Nicole close the presentation session with another story.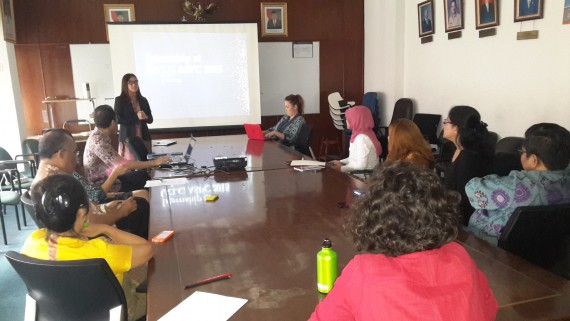 Born in Hong Kong and once live in Guadalajara in Mexico and Switzerland, this Sydney-based intern shared on what kind of benefits she had experienced and enjoyed during her internship in UCLG ASPAC. Working under the Media and Communication division, Nicole said that she has learned a lot especially in the editing of recorded video materials for the organization's promotional program on the website.
She has also attended a press conference with The Indonesian Human Rights Watch and it was a memorable event as she met many high profile figures from the human-right watchdog and scores of both local and foreign journalists. Another memorable event for Nicole was her experience in meeting asylum seekers in Bogor in West Java Province.
To entertain all members of the UCLG ASPAC in the office, Nicole presented an edited video for the organization.
To conclude this presentation session, UCLG ASPAC's Secretary General Dr. Bernadia Irawati Tjandradewi awarded certificates of appreciation to the Australian interns: Candice, Seenying and Nicole.
Words: Mathias Hariyadi

Photo credit: Galih Adi Pramono