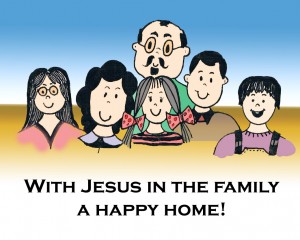 Tuesday, 19 August 2014
Matthew 19:23-30
"I tell you, it is easier for a camel to go through the eye of a needle than for a rich man to enter the kingdom of God." (Matthew 19:24)
WHY did Jesus say this word? Was really against the rich man and wealth? Of course, no! We know very well that Jesus does not against the rich man or wealth. He is not opposed to wealth nor is he opposed to the wealthy.
In His public works, Jesus had so many rich friends who were supporting Him. For example, Matthew himself was a notorious tax collector! He even became one of the apostles.
So, Jesus never hates the rich or wealth. But He wants us to manage it well as the way to enter the eternal life. Remember that this word "I tell you, it is easier for a camel to go through the eye of a needle than for a rich man to enter the kingdom of God" is said after a rich young man approached Him and said, "Teacher, what good must I do to gain eternal life?" And Jesus answered, "If you wish to be perfect, go, sell what you have and give to the poor, and you will have treasure in heaven. Then come, follow me." Unfortunately, when the young man heard this statement, he went away sad, for he had many possessions! Then Jesus shouts, "I tell you, it is easier for a camel to go through the eye of a needle than for a rich man to enter the kingdom of God."
This is the context of the word of Jesus. He seems to remind us: Do not wear yourself out to get rich; be wise enough to desist.
Then, Jesus wants us to learn from the camel. It's regarded as the largest animal in Palestine. Literally or figuratively, the "eye of the needle" could be interpreted and described the narrow and low gate of the city walls which was used by travellers when the larger public gate was locked after dark. A normal sized man had to lower himself to enter that gate. A camel would literally have to kneel and crawl through it.
So the problem is not the rich or wealth but our attitude. Sometimes, wealth can make us falsely independent. In the Gospel, we find Jesus who offers us an incomparable treasure which no money can buy and no thief can steal.
So, the thing we most set our heart on is our highest treasure. Material wealth will shackle us to this earth unless we guard our hearts and set our treasure in God and his everlasting kingdom.
In my life, Perpetual Adoration of the Eucharist is one of the treasures of heaven. It must be the priority of my life to follow Jesus due to I need it.
Lord Jesus Christ, you have offered to me the treasures of heaven. Grant me spiritual detachment from material things. Help me to love you above all things. Although You are always my Treasure, I realize that I am often attached to other things that sometimes lead me to forget you. Please, forgive me. Yes, You may always be my Treasure, forever and ever. Amen.
SALAM TIGA JARI: Persatuan Indonesia dalam Keragaman