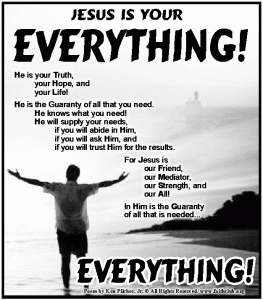 My daily reflection and prayer. Sunday, August 31, 2014:
"For whoever would save his life will lose it, and whoever loses his life for my sake will find it." (Matthew 16:25)
WHAT Jesus says makes us understand the paradox of spiritual life. Jesus wants to say, you'll lose what you gain, and you'll gain what you lose.
What does it mean? It means that when we try to run our life our own way, we will end up losing it to futility. The first thing is to gain His love which never loses from us.
Jesus is our everything. We believe that only Jesus can free us from our ignorant and sinful ways. But He never promises us an easy life. If the world has rejected Him, it will reject us too.
Jesus is our everything. We may not surprise when we are suffering and struggling. Also, we can't surprise when opposition and difficulties come our way. It is part of the cross we must take in following Jesus Christ.
We will lose what we gain, and we will gain what we lose. When we surrender our lives to Jesus, He gives us new life in the Holy Spirit and so we have eternal life. God has sent Him the world for the sake of our salvation. God so loves the world, that he has given His only begotten Son, that whosoever believe on him should not perish, but have eternal life (John 3:16)
It is possible that we can gain all the things we have set our heart on, only to wake up suddenly and discover that we missed the most important thing of all. Neither money nor possessions can buy heaven! We must be ready to lose all to gain all with Jesus Christ.
We must gladly give up all that we have in exchange for an eternal life of joy and happiness with Jesus, the Son of the living God. He gives without measure. He gives us the joy and eternal life, no sadness or loss can diminish.
Trust in Jesus Christ has saved our life. We gain an unending joy and eternal life. We walk from loneliness to happiness. We believe that the cross of Christ leads us from sin and death to victory and life.
Now the question is what is the cross which Jesus Christ commands us to take up daily that we gain an eternal life? It's all the risks and the consequences of our decision to follow Him. Our will may be crossed with His will, but, then His will must be done on us.
For example, we have so many challenges in holding Perpetual Adoration of the Eucharist. We are in dangerous because of our faith in Him. There are so many martyr of faith. These are our cross we must take faithfully in each day. Let's be ready to lose all for Jesus Christ in order to gain all with Him.
Let's pray: Lord Jesus Christ, it is not easy to follow You. We have the same struggles and difficulties everyday. Give us the hope that we need to keep seeking Your will in all things. We will seek You only because You are our everything. Give us power to carry the cross on our shoulders. We love You and wish You to be the center of our life, forever and ever. Amen.
SALAM TIGA JARI: Persatuan Indonesia dalam Keragaman
»̶•̵̭̌•̵̭̌✽̤̈̊•Ɓέяќǎђ•ĐǎƖєm•✽̤̥̈̊•̵̭̌•̵̭̌«̶
"abdi Dalem palawija"
Majalah INSPIRASI, Lentera yang Membebaskan
Komisi Hubungan Antaragama dan Kepercayaan Keuskupan Agung Semarang
Kredit foto: Ilustrasi (Courtesy of the Faith Club)