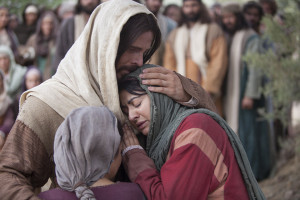 MY daily reflection and prayer:
Wednesday, July 29, 2015
Seventeenth Week in the Ordinary Time
Dear my friends,
Here is the Gospel for us today according to John 11:19-27
Many of the Jews had come to Martha and Mary to console them concerning their brother. When Martha heard that Jesus was coming, she went and met him, while Mary sat in the house. Martha said to Jesus, "Lord, if you had been here, my brother would not have died. And even now I know that whatever you ask from God, God will give you." Jesus said to her, "Your brother will rise again." Martha said to him, "I know that he will rise again in the resurrection at the last day." Jesus said to her, "I am the resurrection and the life; he who believes in me, though he die, yet shall he live, and whoever lives and believes in me shall never die. Do you believe this?" She said to him, "Yes, Lord; I believe that you are the Christ, the Son of God, he who is coming into the world."
This is the Gospel of the Lord. Praise to you Lord Jesus Christ.
***
TODAY is the memorial of St. Martha, the sister of Lazarus and a close friend of Jesus. In this liturgical moment, we read the Gospel whiich proclaims her faith in Jesus Christ.
When she heard that Jesus was coming to pay respects for the loss of Lazarus, she immediately went out to meet him before he could get to her house. Martha believed in the life to come. The loss of her brother did not diminish her hope in the resurrection.
Jesus Christ does something amazing both to strengthen her faith and hope in the life to come and to give her a sign of what he was to accomplish through his own death and resurrection. He came from the Father to defeat sin and death for us and to restore life to those who believe in him. He is the Resurrection and the Life.
In the Perpetual Adoration of the Eucharist we worship Jesus Christ who gives us abundant life now and forever. He is the Resurrection and the Life. There we seek the abundant life which Jesus offers to all of us who believe in him.
Let's pray: Lord Jesus Christ, you are the Resurrection and the Life. Strengthen our faith and hope in your promises that we may radiate the joy of the Gospel to others now and forever. Amen.
Kredit foto: Ilustrasi (Ist)