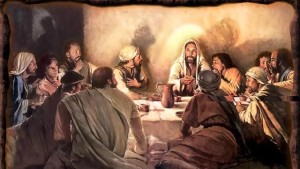 MY daily reflection and prayer: Sunday, April 19, 2015
The Third Week of Easter
Dear my friends, Here is the Gospel for us today according to Luke 24:35-48
Then they told what had happened on the road, and how he was known to them in the breaking of the bread. As they were saying this, Jesus himself stood among them. But they were startled and frightened, and supposed that they saw a spirit.
And he said to them, "Why are you troubled, and why do questionings rise in your hearts? See my hands and my feet, that it is I myself; handle me, and see; for a spirit has not flesh and bones as you see that I have."
And while they still disbelieved for joy, and wondered, he said to them, "Have you anything here to eat?" They gave him a piece of broiled fish, and he took it and ate before them. Then he said to them, "These are my words which I spoke to you, while I was still with you, that everything written about me in the law of Moses and the prophets and the psalms must be fulfilled."
Then he opened their minds to understand the Scriptures, and said to them, "Thus it is written, that the Christ should suffer and on the third day rise from the dead, and that repentance and forgiveness of sins should be preached in his name to all nations, beginning from Jerusalem. You are witnesses of these things.
This is the Gospel of the Lord. Praise to you Lord Jesus Christ.
***
From the Gospel today we can learn about the patient of Jesus Christ in guiding his disciple to believe in him. Yes, his patient, accepting his disciples and also our attitude is encouraging.
He guided his disciples on the road to Emmaus by being known to them in the breaking of the bread. After this experience, Jesus himself also stood among them. Even when Jesus was right there in front of them, they were slow to believe. They were startled and frightened, and supposed that they saw a ghost. He then took a piece of fish to help them believe.
Of course, Jesus Christ is not a ghost. He is not a figment of our imagination, nor the result of our wishful thinking. Jesus Christ is really the Lord, the Son of God who are with and guiding us.
He is more real than our fears. His grace is stronger than our weaknesses, more powerful than sin and death itself. As the disciples have mixed reactions to his presence, he invites them to get a grip on themselves and reflect in faith.
In Perpetual Adoration of the Eucharist we learn to trust in Jesus Christ. Our reflection and contemplation in faith while we are worshipping him always lead to the truth of Jesus Christ.
Let's pray: Lord Jesus Christ, bring us your Easter peace. Let we share in your victory over sin and death. May we live for you alone. Help us to find in you the only source of our hopes and the One who will never fail us now and forever. Amen.
Photo credit: Ilustrative (Ist)