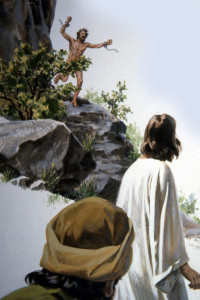 MY daily reflection and prayer:
Wednesday, July 1, 2015
Thirteenth Week in Ordinary Time
Dear my friends,
Here is the Gospel for us today according to Matthew 8:28-34
And when he came to the other side, to the country of the Gadarenes, two demoniacs met him, coming out of the tombs, so fierce that no one could pass that way. And behold, they cried out, "What have you to do with us, O Son of God? Have you come here to torment us before the time?" Now a herd of many swine was feeding at some distance from them. And the demons begged him, "If you cast us out, send us away into the herd of swine." And he said to them, "Go." So they came out and went into the swine; and behold, the whole herd rushed down the steep bank into the sea, and  perished in the waters. The herdsmen fled, and going into the city they told everything, and what had happened to the demoniacs. And behold, all the city came out to meet Jesus; and when they saw him, they begged him to leave their neighborhood.
This is the Gospel of the Lord. Praise to you Lord Jesus Christ.
***
THE Gospel today proclaims about Jesus Christ who takes pity on the two men who are overtaken by a legion of evil spirits (cfr Mark 5:9; Luke 8:30). What does it mean for us?
This story wants to remind us that there are always so many things threat us but in the name of Jesus Christ there are no destructive forces can keep us from the peace and safety which God offers to those who seek his help. As being cried out the psalmist, "A thousand may fall at your side, ten thousand at your right hand; but it will not come near you. Because you have made the Lord your refuge, the Most High your habitation" (Psalm 91:7,9); we can always trust our lives in God, our refuge.
God helps us through Jesus Christ. Jesus Christ will free us from anything that threats us. He is always ready to free us from anything that injuries us and that robs us from the love of God.
In the Perpetual Adoration of the Eucharist we worship Jesus Christ who always ready to help and free us from anything that injuries us. Let's come to Jesus Christ who always offers us his love and saving power.
Let's pray: Lord Jesus Christ, help us that we may love you wholly and walk in the freedom of your way of love and holiness. May we always share in your joy of living in your presence and care to those who need our help now and forever. Amen.
Kredit foto: Ilustrasi (Ist)