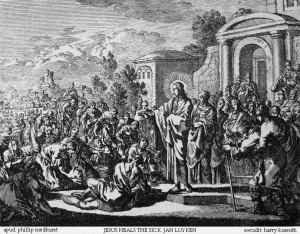 MY daily reflection and prayer: Monday, March 9, 2015
The Third Week of Lent
Dear my friends, Here is the Gospel for us today according to St. Luke 4:24-30
And Jesus said, "Truly, I say to you, no prophet is acceptable in his own country. But in truth, I tell you, there were many widows in Israel in the days of Elijah, when the heaven was shut up three years and six months, when there came a great famine over all the land; and Elijah was sent to none of them but only to Zarephath, in the land of Sidon, to a woman who was a widow.
And there were many lepers in Israel in the time of the prophet Elisha; and none of them was cleansed, but only Naaman the Syrian." When they heard this, all in the synagogue were filled with wrath. And they rose up and put him out of the city, and led him to the brow of the hill on which their city was built, that they might throw him down headlong. But passing through the midst of them he went away."
This is the Gospel of the Lord. Praise to you Lord Jesus Christ.
***
Let's believe that God wants to act with his power to set us free from sin, fear and oppression in our daily lives. The Gospel today records that Jesus praised Naaman who put his faith in God.
Naaman, the pagan army commander from Syria heard about the mighty deeds of the God of Israel. He was afflicted with leprosy but immediately healed and restored in body and spirit by Elisha, the great prophet of Israel. He was indignant at first, but then repented and followed the prophet's instructions to bathe seven times in the Jordan river (2 Kings 5:1-15).
Why does Jesus take Naaman's healing and what is the significance of his healing for us? According to Ephrem the Syrian (306-373 AD), Naaman's miraculous healing at the Jordan river prefigures the mystery of the healing which is freely granted to all nations of the earth by our Lord Jesus Christ through the regenerating waters of baptism and renewal in the Holy Spirit.
We remember what Jesus has told to Nicodemus, "unless one is born of water and the Spirit, he cannot enter the kingdom of God" (John 3:5). So, as taught by St. Paul, Jesus Christ wants to renew in each one of us the gift of faith and the regenerating power of baptism and the Holy Spirit (Titus 3:5). It cleanses us from the leprosy of sin and makes us newborn sons and daughters of God.
We all stand in need of God's grace and merciful help every day and every moment of our lives. In Perpetual Adoration of the Eucharist we worship Jesus Christ who gives grace to all of us who humbly seek him with expectant faith and with a repentant heart. He makes us clean again from our sins that we can serve others joyfully.
Let's pray: Lord Jesus Christ, you will set us free from every sinful habit and every harmful way of relating to our neighbor, if we allow you to cleanse and heal us. Bless us all for we want to walk in freedom and grow in love and holiness. Set us free and make us clean again that we may delight to do your will now and forever. Amen.
Kredit foto: Ist