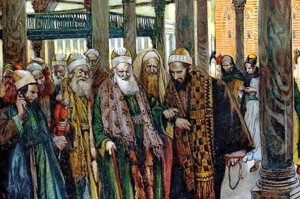 MY daily reflection and prayer:
Saturday, July 18, 2015
Fifteenth Week in Ordinary Time
Dear my friends,
Here is the Gospel for us today according to Matthew 12:14-21
But the Pharisees went out and took counsel against him, how to destroy him. Jesus, aware of this, withdrew from there. And many followed him, and he healed them all, and ordered them not to make him known. This was to fulfill what was spoken by the prophet Isaiah: "Behold, my servant whom I have chosen, my beloved with whom my soul is well pleased.  I will put my Spirit upon him, and he shall proclaim justice to the Gentiles. He will not wrangle or cry aloud, nor will any one hear his voice in the streets; he will not break a bruised reed or quench a smoldering wick, till he brings justice to victory; and in his name will the Gentiles hope."
This is the Gospel of the Lord. Praise to you Lord Jesus Christ.
***
THE Gospel today records the mounting confrontation between the Pharisees and Jesus. It was such a decisive event and crisis. They became intolerant of Jesus because of their prejudice. In such, nothing that Jesus would do and say from this point on would be right in their eyes. The worst was that they conspired, not simply to oppose Jesus but to eliminate him.
From the Gospel today we can learn from Jesus on how he used the crisis to teach us an important lesson for God's way to success and victory. The only way to glory in God's kingdom is through the cross of suffering and humiliation. Jesus endured for our sake and for our salvation. We, too, are called to take up our cross every day. We have to die to sin, selfishness, envy, pride, strife, and hatred and to lay down our lives in humble service and love for one another, just as Jesus did for our sake.
Jesus gives us a strong hope through love and sacrificial service. There is no greater proof of his love for us than the sacrificial death of Jesus for our sake and our salvation.
In the Perpetual Adoration of the Eucharist, we worship Jesus Christ who  brings the justice of God's kingdom tempered with divine love and mercy. He does not bruise the weak or treat them with contempt, but rather shows understanding and compassion.
Let's pray: Lord Jesus Christ, you do not discourage the fainthearted but gives hope, courage, and the strength to persevere through trying circumstances. No trials, failings, and weaknesses can keep us from the mercy and help which you offer to each of us. Your grace is sufficient for every moment, every situation, and every challenge we face now and forever. Amen.
Kredit foto: Ilustrasi (Ist)