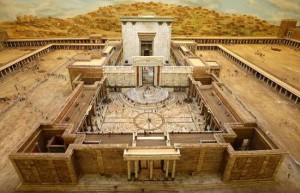 MY Daily Reflection and Prayer: Thursday, November 20, 2014:
Dear my friends, Here is the Gospel for us today according to St. Luke 19:41-44
As Jesus drew near Jerusalem, he saw the city and wept over it, saying, "If this day you only knew what makes for peace– but now it is hidden from your eyes. For the days are coming upon you when your enemies will raise a palisade against you; they will encircle you and hem you in on all sides. They will smash you to the ground and your children within you, and they will not leave one stone upon another within you because you did not recognize the time of your visitation."
This is the Gospel of the Lord. Praise to You Lord Jesus Christ.
***
The Gospel today proclaims to us about Jesus who approaches Jerusalem and see the multitude of homes surrounding the holy temple, then He weep over it because it inhabitants does not "know the things that make for peace" (Luke 19:42).
The Father in heaven has sent His only begotten Son, the Lord Jesus Christ, to reconcile us with God and to unite us with one another in a bond of peace and mutual love. Jerusalem means the city of peace. It derives its name from the word "salem" which mean "peace". The temple in Jerusalem is a constant reminder to the people of God's presence with them.
Why does Jesus weep and lament over the city of Jerusalem? It's caused by the leaders of Jerusalem who refuse to believe in Him as the Son of God. They rejects Jesus as the prophets who speaks in the name of the God because of their pride and unbelief.
Even, they refuse to accept Jesus as their Messiah whom God has anointed to be their Savior and Prince of Peace. In fact, Jesus' entrance into Jerusalem is a gracious visitation of God's anointed King to His holy city; but they lack of faith and reject Him.
In Perpetual Adoration of the Eucharist, we learn to accept Jesus Christ, the Lord, as the only one who can truly reconcile us with God and with one another. We worship Jesus Christ who breaks down the walls of hostility and division by reconciling us with God through His death and resurrection. In Perpetual Adoration of the Eucharist, we accept Jesus Christ as the Son of God who has visited us. Let's recognize His gracious visitation today.
Let's pray: Lord Jesus Christ, teach us to accept You who help us to turn away from sin and to walk in Your way of love and holiness. You have visited and redeemed us in Perpetual Adoration of the Eucharist. May we not miss the grace of Your visitation today as You move to bring Your people into greater righteousness and holiness of life, now and forever.
Kampung galaman Belikrejo, Gambiranom, Baturetno, Wonogiri
»̶•̵̭̌•̵̭̌✽̤̈̊•Ɓέяќǎђ•Đǎlєm•✽̤̥̈̊•̵̭̌•̵̭̌«̶
"abdi Dalem palawija"
Majalah INSPIRASI, Lentera yang Membebaskan
Komisi Hubungan Antaragama dan Kepercayaan Keuskupan Agung Semarang