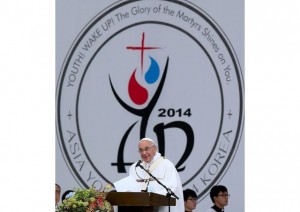 Pengantar Redaksi:
Asian Youth Day (AYD) ke-6 baru saja usai di Korea Selatan dimana Paus Fransiskus menghadiri acara ini. Yang menggembirakan, Indonesia akan menjadi tuan rumah hajatan iman untuk para OMK se-Asia dalam acara AYD ke-7 pada tahun 2017. Pengumuman ini diungkapkan oleh Kardinal Oswald Gracias, Presiden Federasi Para Uskup Asia (FABC) sekaligus Uskup Agung Mumbay, India.
Apakah di tahun 2017 nanti Paus Fransiskus juga akan mengunjungi Indonesia dalam rangka 7th AYD? Kita belum tahu, namun berharap Tahta Suci berkenan mengunjungi Nusantara. (Baca juga: Dari Korsel, Paus Fransiskus Menyapa Para Uskup Asia).
Berikut ini kami sampaikan pidato Kardinal Oswald Gracias pada sesi penutupan 6th Asian Youth Day di Korsel akhir pekan lalu.
—————————–
Vatican Radio: THE 7th Asian Youth Day will be held in Indonesia in 2017. The annoucement was made by Cardinal Oswald Gracias, Archbishop of Bombay and President of the Federation of the Asian Bishops' Conference at the end of the Mass celebrated by Pope Francis to conclude the 6th Asian Youth Day that has taken place in Korea.
Please find below the text of Cardinal Gracias' address to Pope Francis during the Mass in Haemi, Korea:
Most Holy Father,
It is my privilege to convey to you the sentiments of the tens of thousands of our youth assembled here.
How happy we felt as you led us in this concluding Eucharist of the 6th Asian Youth day here in Daejeon, Korea. How inspired we felt with your message to us: Asian Youth, Wake up! The glory of the martyrs shines on you! How thrilled we are on realizing that we are entrusted with the challenge of transforming society. How enthusiastic we feel as we carry the joy of the Gospel to the ends of Korea, to the ends of Asia and to the ends of the world.
We have spent five days of excitement, joy and playfulness – but also of deep prayer, serious reflection and earnest exchange. We have been awakened from the soporific slumber that engulfed us because of certain values that infected us. In this slumber our eyes were closed to the joy of the Gospel, our minds clouded from seeing the beautiful vision of the Kingdom of God, and our hearts dulled to experience the warmth of Jesus' love for us.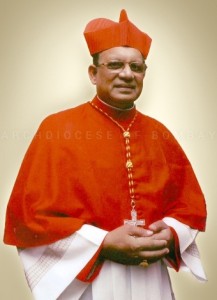 But now after these five days in Daejeon we have rekindled our passion for the Gospel, revitalized our youthful spirit, and understood more deeply our baptismal consecration and the meaning of true discipleship.
And so 'No' to an economy of exclusion, 'No' to an economy of selfishness, without ethics, 'No' to the spirit of materialism. 'No', 'No', 'No'. And a 'yes' to a personal encounter with Jesus whom we want to carry always with us. 'Yes' to the cry of the poor, the needy and the lonely and 'yes' to the world that eagerly waits for us.
We leave the place with memories of Daejeon and Korea. We are grateful to you Most Holy Father for having been a true, loving and gracious father to us. Grateful to our leader, Archbishop Patrick D'Rozario, CSC, who guided us right through from the preparatory stage. Grateful to the main organizer, Fr. Patrick Gomes and his big team; Grateful to the FABC which inspired the whole Youth Day celebration and Grateful to the Korean Church – the Bishops, Priests, Religious and people, Grateful to our hosts, Grateful to Korea. We have been so privileged to be here. Thank you Korea. Thank you. God bless you.
And so now we joyfully, gloriously and proudly carry the cross of Jesus on our shoulders, in our hearts and in our lives as we march forward and prepare to meet for the next Asian Youth Day in 2017 in Indonesia.
And so once again thank you Holy Father, thank you Korea. We love you.
Oswald Cardinal Gracias