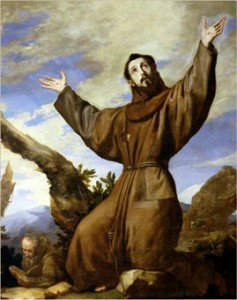 MY  daily reflection and prayer: Saturday, October 4, 2014
"Rejoice, your name is written in heaven!"
Dear my friends,
Here is the Gospel for us today, according to St. Luke 10:17-24.
"The seventy-two disciples returned rejoicing and said to Jesus, "Lord, even the demons are subject to us because of your name." Jesus said, "I have observed Satan fall like lightning from the sky. Behold, I have given you the power 'to tread upon serpents' and scorpions and upon the full force of the enemy and nothing will harm you. Nevertheless, do not rejoice because the spirits are subject to you, but rejoice because your names are written in heaven."
At that very moment he rejoiced in the Holy Spirit and said, "I give you praise, Father, Lord of heaven and earth, for although you have hidden these things from the wise and the learned you have revealed them to the childlike. Yes, Father, such has been your gracious will. All things have been handed over to me by my Father. No one knows who the Son is except the Father, and who the Father is except the Son and anyone to whom the Son wishes to reveal him."
Turning to the disciples in private he said, "Blessed are the eyes that see what you see. For I say to you, many prophets and kings desired to see what you see, but did not see it, and to hear what you hear, but did not hear it."
This is the Gospel of the Lord. Praise to You Lord Jesus Christ.
***
Today is the memorial of Saint Francis of Assisi. Jesus invites us to rejoice for our names are written in heaven. He wants us to experience in our personal lives the joy and happiness of heaven. It is our strength. So Jesus says to His disciples and to us as well, "… rejoice because your names are written in heaven!"
By saying it, Jesus wants to confirm us that the true source of our joy is God Himself. In Him we rejoice, in good times and bad times, in success or loss. Jesus also assures us that He has all power over evil spirits who conspire against us. He has given us spiritual authority and power for overcoming the works of darkness and evil.
In Perpetual Adoration of the Eucharist, we worship Jesus as our source of joy and happiness. In Jesus Christ, we see the perfect love of God who cares all of us intensely. He has given His life for us upon the cross. He is the revelation of God who loves us completely, unconditionally and perfectly. Let's rejoice because our names are written in heaven.
In the memorial of St. Francis of Assisi, let's recite his prayer of peace: Lord Jesus Christ, make me an instrument of Your peace. Where there is hatred, let me sow love; where there is injury, pardon; where there is doubt, faith; where there is despair, hope; where there is darkness, light; where there is sadness, joy.
O, Divine Master, grant that I may not so much seek to be consoled as to console; to be understood as to understand; to be loved as to love; For it is in giving that we receive; it is in pardoning that we are pardoned; it is in dying that we are born again to eternal life, now and forever. Amen.
Girli Kebon Dalem
»̶•̵̭̌•̵̭̌✽̤̈̊•Ɓέяќǎђ•Đǎlєm•✽̤̥̈̊•̵̭̌•̵̭̌«̶
"abdi Dalem palawija"
Majalah INSPIRASI, Lentera yang Membebaskan
Komisi Hubungan Antaragama dan Kepercayaan Keuskupan Agung Semarang
Photo credit: Saint Francis Assisi by Juseppe Ribera