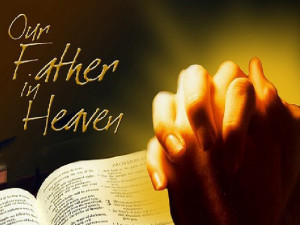 MY daily reflection and prayer:
Thursday, June 18, 2015
Eleventh Week in Ordinary Time
Dear my friends,
Here is the Gospel for us today according to St. Matthew 6:7-15
Jesus Christ says, "And in praying do not heap up empty phrases as the Gentiles do; for they think that they will be heard for their many words. Do not be like them, for your Father knows what you need before you ask him. Pray then like this: Our Father who art in heaven, Hallowed be thy name. Thy kingdom come. Thy will be done, On earth as it is in heaven. Give us this day our daily bread; And forgive us our debts, As we also have forgiven our debtors; And lead us not into temptation, But deliver us from evil. For if you forgive men their trespasses, your heavenly Father also will forgive you; but if you do not forgive men their trespasses, neither will your Father forgive your trespasses."
This is the Gospel of the Lord. Praise to you Lord Jesus Christ.
***
What shall we do when we pray? Do we pray with joy and confidence? In the Gospel today, Jesus Christ reminds us not to be formalism. He teaches us to pray to God as our Father. To the Father in who are in heaven we ask for the things we need to live as his daughters and sons in this earth as it is in heaven.
We are happy for God is our Father and we are his children. Jesus Christ teaches us to know God personally. So we call him "our Father". We approach him as our Father with confidence as Jesus Christ has wanted us to do so. He has opened the way to heaven for us through his death and resurrection.
We ask God for help and we believe that he surely responds us with grace and mercy. He loves us generously and forgives us mercifully. Even he gives more than we need.
In the Perpetual Adoration of the Eucharist we worship God the Father through Jesus Christ who gives us generously. By worshipping him, we are zealed to share generously with others in their need. He wants us to treat our neighbor the same as he has treated us with his grace, favor and mercy.
Let's pray: Our Father, in the nane of the Lord Jesus Christ, free our hearts from any anger, bitterness, selfishness, and indifference towards others. Give us today your grace and strength to embrace your holy will that we are charitable in deed and in speech towards others now and forever. Amen.
Kredit foto: Ilustrasi (Ist)