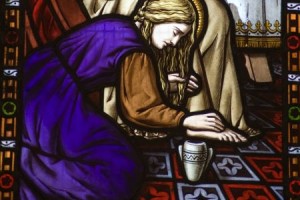 MY daily reflection and prayer: Saturday, March 14, 2015
The Third Week of Lent
Dear my friends, Here is the Gospel for us today according to St. Luke 18:9-14
He also told this parable to some who trusted in themselves that they were righteous and despised others: "Two men went up into the temple to pray, one a Pharisee and the other a tax collector. The Pharisee stood and prayed thus with himself, `God, I thank you that I am not like other men, extortions, unjust, adulterers, or even like this tax collector.
I fast twice a week; I give tithes of all that I get.' But the tax collector, standing far off, would not even lift up his eyes to heaven, but beat his breast, saying, `God, be merciful to me a sinner!' I tell you, this man went down to his house justified rather than the other; for everyone who exalts himself will be humbled, but he who humbles himself will be exalted."
This is the Gospel of the Lord. Praise to you Lord Jesus Christ.
***
What must we do that our prayer is pleasing to God? Surely, the prayers we offer to God mean nothing to him if it does not spring from a heart of love for God and for one's neighbor. Furthermore, we have to approach him with humility and with a contrite heart. Remember, the Scripture tells us that "God opposes the proud, but gives grace to the humble" (James 4:6).
In the Gospel today, Jesus Christ reinforces this warning with a vivid story of two people at prayer. The first is the Pharisee's way of prayer. The second is the prayer of the tax collector. Jesus puts down a religious person and raise up a public sinner.
In fact, Jesus' parable speaks about the nature of prayer and our relationship with God. The Pharisee, who represented those who take pride in their religious practices, exalted himself at the expense of others. Absorbed with his own sense of self-satisfaction and self-congratulation, his boastful prayer was centered on his good religious practices rather than on God's goodness, grace, and pardon.
Rather than humbling himself before God and asking for God's mercy and help, this man praised himself while despising those he thought less worthy. The Pharisee tried to justify himself before God and before those he despised; but only God can justify us. The tax collector, who represented those despised by religious-minded people, humbled himself before God and begged for mercy. His prayer was heard by God because he had true sorrow for his sins. He sought God with humility rather than with pride.
In Perpetual Adoration of the Eucharist we learn to pray with true humility. It helps us to see ourselves as we really are in God's eyes and it inclines us to seek God's help and mercy. He dwells with us who recognize our own sinfulness and who acknowledge God's mercy and saving grace. Let's humbly seek God's mercy that we can show mercy to others, especially those we find difficult to love and to forgive.
Let's pray: Lord Jesus Christ, give us a humble and contrite heart. May your love and truth transform our lives. Help us to embrace your merciful love and to seek the good of our neighbor, even those who cause us ill-favor. May we always love as you have loved and forgive others as you have forgiven now and forever. Amen.
Photo credit: Ist