This is an unofficial translation of Father Julián Carrón's statement on the election of Pope Francis as the Bishop of Rome.
 —————–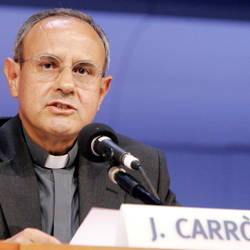 IN the overwhelming joy of having a new guide for our people to believe, I am struck by how he managed to communicate to us, from the very first steps, with simple, understandable for everyone, where fixing his eyes. By choosing the name, Francis tells us that no other wealth than Christ. He does not rely on any other mode of communicating except the bare and simple testimony of Christ.
Pope Francis has expressed a request disarming the consciousness that this testimony is pure grace that must be mendicancy [begging]: "I ask you to pray the Lord to bless me." In the Pope's prayer together with the multitude of St. Peter's Square took shape before the eyes of the world the miracle of life that is the Church, whose heart is Christ himself.
I am struck by the profound harmony, founded on faith in Jesus Christ, between the realism of Benedict XVI, who in his gesture reminded the world that the Church is Christ, and the humble realism of Pope Francis, who immediately expressed awareness of his ministry as Bishop in communion and in his journey with the people of the Church of Rome, "which is that which presides in charity all the Churches," in the felicitous expression of the great St. Ignatius of Antioch.
Moved by the invitation to begin the journey together, bishop and people, we ask the Virgin Mary for each of us surrender to Christ testifies Francis at this time.
Grateful to the Spirit that gave guidance to his Church, then we begin the journey eager to follow and serve the Pope with all of ourselves, according to the teachings we have received from Father Giussani: "The face of the man [Christ] is now the set of believers, who are the sign of the world, or – as St. Paul says – we are the Body, mysterious body, also called the "people of God" led as a guarantee by a living person, the Bishop of Rome."
Father Julián Carrón
President, Fraternity of Communion and Liberation
14 March 2013
Milan