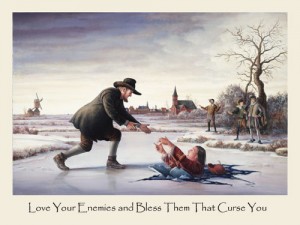 MY daily reflection and prayer: Saturday, February 28, 2015
Dear my friends, here is the Gospel for us today according to St. Matthew Matthew 5:43-48
"You have heard that it was said, `You shall love your neighbor and hate your enemy.' But I say to you, Love your enemies and pray for those who persecute you so that you may be sons of your Father who is in heaven; for he makes his sun rise on the evil and on the good, and sends rain on the just and on the unjust. For if you love those who love you, what reward have you? Do not even the tax collectors do the same? And if you salute only your brethren, what more are you doing than others? Do not even the Gentiles do the same? You, therefore, must be perfect, as your heavenly Father is perfect.
This is the Gospel of the Lord. Praise to you Lord Jesus Christ.
***
First of all, thanks to the Lord for his loving words today! He assures us that the love conquers every fear, sin, and selfish desire. He also renews his love for us each and every day. His love has the power to free us from every form of evil: selfishness, greed, anger, hatred, jealously and envy. Jesus teaches us and transforms the old law of justice and mercy with grace and loving-kindness to everyone even to those who hate us.
From the Gospel we learn that God is good to the unjust as well as the just. His love embraces saint and sinner alike. God seeks our highest good and teaches us to seek the greatest good of others, even those who hate. Our love for others, including those who are ungrateful or selfish towards us, must be marked by the same kindness and mercy which God has shown to us. This is the great lesson for us today. Thanks to the Lord.
The question is how can we possibly love as God loves and overcome evil with good? Of course, in the name of Jesus Christ and with him, all things are possible. He gives us power and grace. He grants us the gift of the Holy Spirit. His love conquers all, even our hurts, fears, prejudices and grieves.
In Perpetual Adoration of the Eucharist, we worship Jesus Christ who frees us from the tyranny of malice, hatred, and revenge. He gives us the courage to return evil with good. Such love and grace has power to heal and to save from destruction. Let's adore him and accept the power of his redeeming love and mercy for us and others in our prayers.
Let's pray: Lord Jesus Christ, give us the Holy Spirit to purify and transform us in the image of the Father that we may walk in the joy and freedom of the Gospel. We trust in you. Your love brings freedom and pardon. Fill us with your Holy Spirit and set our hearts ablaze with your love that nothing may make us lose our temper, ruffle our peace, take away our joy, nor make us bitter towards anyone now and forever. Amen.
Kredit foto: Ist