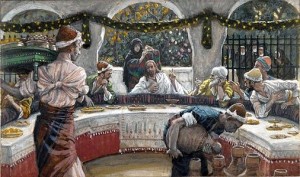 MY daily reflection and prayer: Friday, October 17, 2014
Dear my friends, Here is the Gospel for us today, according to St. Luke 12:1-7.
At that time: So many people were crowding together that they were trampling one another underfoot.  Jesus began to speak, first to his disciples, "Beware of the leaven–that is, the hypocrisy–of the Pharisees.
"There is nothing concealed that will not be revealed, nor secret that will not be known. Therefore whatever you have said in the darkness will be heard in the light, and what you have whispered behind closed doors will be proclaimed on the housetops. I tell you, my friends, do not be afraid of those who kill the body but after that can do no more. I shall show you whom to fear. Be afraid of the one who after killing has the power to cast into Gehenna; yes, I tell you, be afraid of that one. Are not five sparrows sold for two small coins? Yet not one of them has escaped the notice of God. Even the hairs of your head have all been counted. Do not be afraid. You are worth more than many sparrows."
***
"Do not be afraid. You are worth more than many sparrows" says Jesus to us today. He says it to encoruage us. This the good news for us today.
What is the good news in this context. It's that God's light exposes the darkness of evil and sin in our hearts, even the sin which is unknown to us. God's light transforms our hearts and minds and enables us to overcome hatred with love, pride with humility, and pretense with integrity and truthfulness. God gives grace to the humble and contrite of heart to enable us to overcome the leaven of insincerity and hypocrisy in our lives.
This is the reason for us not to be afraid. So many time we are afraid of everything. We fear of something will happen in our lives.
Fear is a powerful force. It can lead us to panic and flight or it can spur us to faith and action. The fear of God is the antidote to the fear of losing one's life.
We must of course fear of God than everybody and everything. What is the fear of God? It is reverence for the One who made us in love and who sustains us in mercy and kindness. The greatest injury or loss which we can experience is not physical but spiritual, the loss of one's soul and life to the power of hell.
In Perpetual Adoration of the Eucharist we ask Jesus a healthy fear of God which leads to spiritual maturity, wisdom, and right judgment. It frees us from the tyranny of sinful pride, deceit, falsehood, and deception. Let's trust in God's grace and mercy and submit to His life-giving word of truth and righteousness.
Let's pray: Lord Jesus Christ, may the light of Your word free our heart from the deception of sin and consume us with a burning love for Your truth and righteousness. May we only fear of You, forever and ever. Amen
»̶•̵̭̌•̵̭̌✽̤̈̊•Ɓέяќǎђ•Đǎlєm•✽̤̥̈̊•̵̭̌•̵̭̌«̶
Photo credit: Jesus and the Pharisees in Simon's House (Ist)