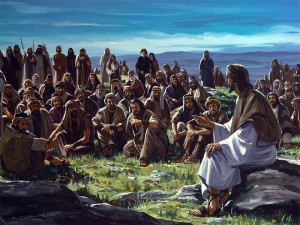 DEAR  my friends, Here is the Gospel for us today according to St. Mark 6:7-13
And he called to him the twelve, and began to send them out two by two, and gave them authority over the unclean spirits. He charged them to take nothing for their journey except a staff; no bread, no bag, no money in their belts; but to wear sandals and not put on two tunics.
And he said to them, "Where you enter a house, stay there until you leave the place. And if any place will not receive you and they refuse to hear you, when you leave, shake off the dust that is on your feet for a testimony against them." So they went out and preached that men should repent. And they cast out many demons, and anointed with oil many that were sick and healed them.
This is the Gospel of the Lord. Praise to you Lord Jesus Christ.
***
The Gospel today proclaims to us about Jesus who gives his apostles both the power and the authority to speak and to act in his name. He commands them to do the works which he has done that is to heal the sick. to cast out evil spirits, and to speak the word of God. They must proclaim the good news of the gospel which they receive from Jesus.
Jesus tells the apostles to go with little or no provision. We call it the poverty of spirit. It frees us from greed and preoccupation with our possessions and makes ample room for God's provision.
Jesus Christ, the Lord wants us to be dependent on him and not on ourselves. He wills to work in and through each of us for his glory.
In Perpetual Adoration of the Eucharist, we worship Jesus Christ that we are ready to use the spiritual authority and power which God wishes us to exercise on his behalf. Let us eager to place ourselves at his service and to witness his truth and saving power to whomever he sends us.
Let's pray: Lord Jesus Christ, make us a channel of your healing power and merciful love that others may find abundant life and freedom in us. Free us from all other burdens that we may joyfully pursue the treasure of your heavenly kingdom. May we witness the joy of the Gospel to the humankind both in word and deed now and forever. Amen.