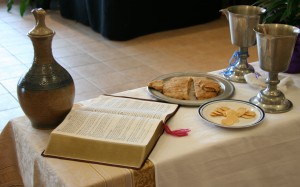 MY daily reflection and prayer: Thursday, April 23, 2015
The Third Week of Easter
Dear my friends, Here is the Gospel for us today according to John 6:44-51
No one can come to me unless the Father who sent me draws him; and I will raise him up at the last day. It is written in the prophets, `And they shall all be taught by God.' Every one who has heard and learned from the Father comes to me. Not that any one has seen the Father except him who is from God; he has seen the Father.
Truly, truly, I say to you, he who believes has eternal life. I am the bread of life. Your fathers ate the manna in the wilderness, and they died. This is the bread which comes down from heaven, that a man may eat of it and not die. I am the living bread which came down from heaven; if any one eats of this bread, he will live for ever; and the bread which I shall give for the life of the world is my flesh."
This is the Gospel of the Lord. Praise to you Lord Jesus Christ.
***
Through Jesus Christ, God offers us abundant life for us, but we must realize that we can miss it if we have no faith. More than manna that God has given it to the Israelites, he gives us the bread of life which Jesus offers. It is first of all the life of God himself. It sustains us not only now in this age but also in the age to come. It sustains us for all eternity.
Jesus offers us the abundant supernatural life of heaven itself but we can miss it if we refuse it. To refuse Jesus Christ is to refuse eternal life, unending life with the Heavenly Father. When we approach the Table of the Lord and celebrate the Eucharist, we expect to receive healing, pardon, comfort, and peace. But Jesus Christ has much more for us, more than we can ask.
In Perpetual Adoration of the Eucharist, we experience the fundamental fruit of receiving the Eucharist that is an intimate union with Jesus Christ. It will strengthen us in charity and enables us to break with disordered attachments to creatures and to be more firmly rooted in the love of Christ.
Let's pray: Lord Jesus Christ, you are the living bread from heaven which sustains our lives. May we always hunger for the bread which comes from heaven and find in it the nourishment and strength wr need to love and serve you wholeheartedly. May we always live in the joy, peace, and unity of the Father, Son, and Holy Spirit,  now and forever. Amen.
Photo credit: Ilustrative